When it comes to learning a new language, there are many different methods with which to experiment. One of the best ways to learn Spanish, or any language for that matter, is through music.
If you're interested in learning Spanish through music, then listening to Spanish songs is a great way to start. After all, everybody knows Spanish music, right? It's an intrinsic part of Latin culture.
Think back to Ricky Martin in the late nineties, Enrique Iglesias in the early naughties, Shakira in the 2010s, and (more recently) Bad Bunny, arguably the biggest star in reggaeton right now.
In this post, we'll discuss some of the best songs to help you learn Spanish, whether you're a beginner, intermediate or advanced learner. We'll also take you through Spanish songs that are commonly used to learn basic vocabulary, touching on genres like reggaeton, salsa and Spanish pop!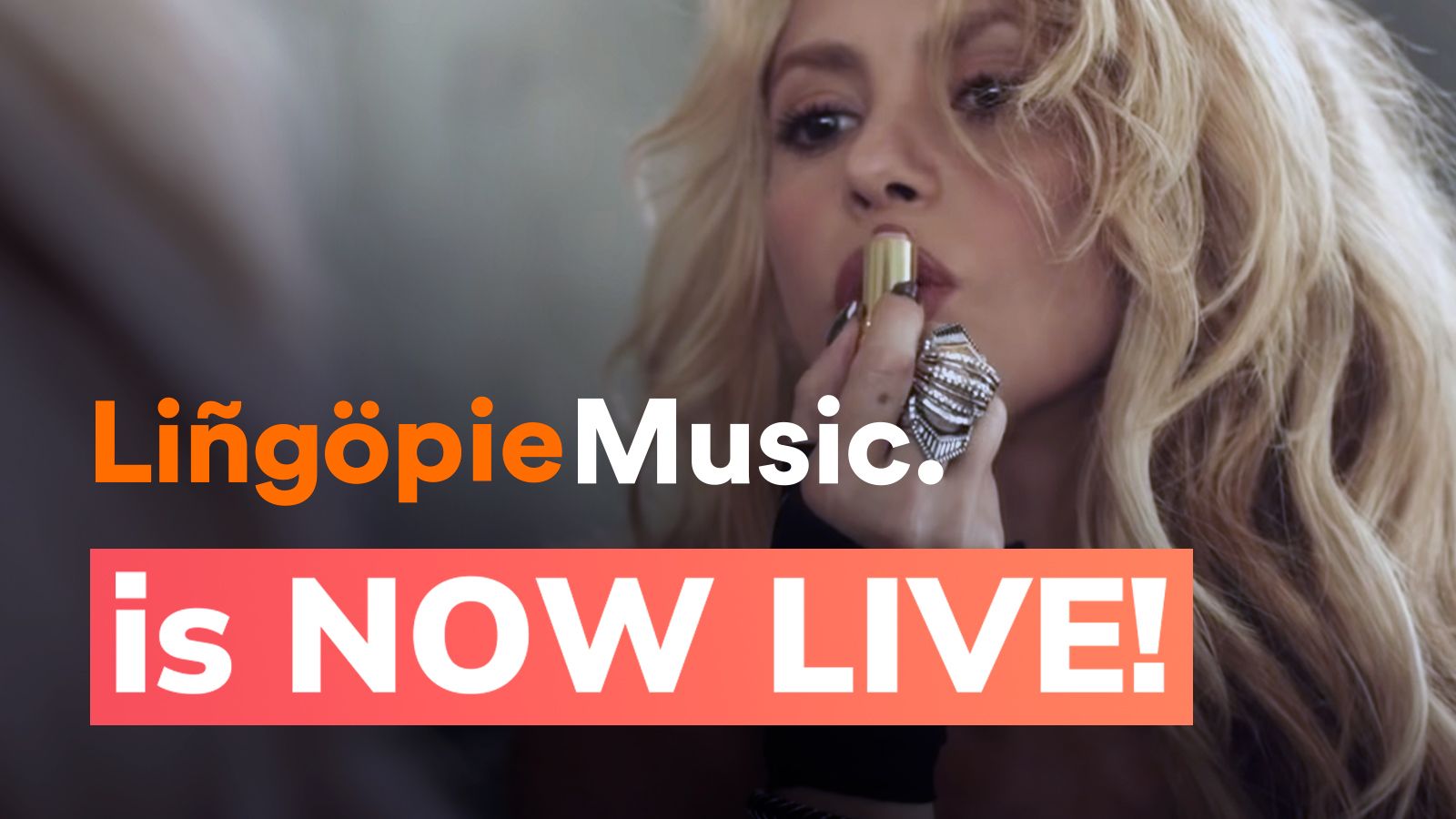 Lingopie Music is absolutely free and provides access to hundreds of songs with videos and dual-subtitles, be sure to check out our list of songs below. Ready? ¡Vamos!
Using Spanish Songs to Learn Spanish
When studying a language, it's common to wonder what are the best ways to effectively learn and practice. One of the best strategies for beginner Spanish language learners to pick up the most essential vocabulary is through music.
💡
In fact, beginners can really benefit from incorporating Spanish songs into their studies. Not only is it a fun way to learn, but it can also help you to understand and start to use key vocabulary and grammar concepts more quickly.
You'll probably remember when you were at school; some of your earliest memories may be learning your ABCs through rhyme. This is a method of teaching useful for learning sometimes mundane yet necessary vocabulary, primarily through repetition and drilling.
So, if you get a chance, listen to the Spanish music listed below as much as you can. The natural repetition will help you to learn new vocabulary and sentence structures.
If you like reading, we also recommend adding audiobooks to the list of language learning tools under your belt. To help you with this we've compiled a list of the best audiobooks for learning Spanish.
Let's face it, learning with music and audiobooks beats grammar textbooks and traditional study methods, right? Let's get started with our list of top songs for beginners.
Canciones Infantiles - Canción de La Familia (In English and Spanish)
Our first pick goes to Canción de La Familia, a song for infants to learn about different family members. This is the perfect song for any beginner as it goes through the vocabulary in both Spanish and English.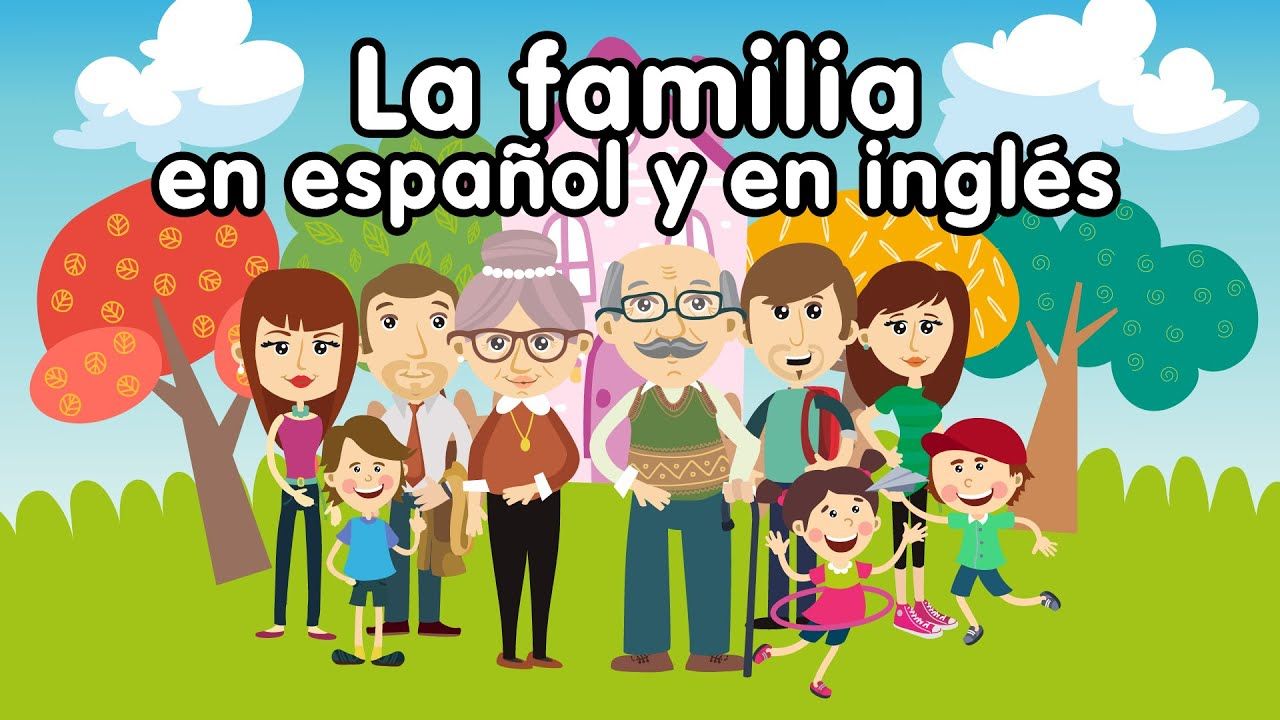 Songs for young people or children are often the best for learning Spanish as a beginner. This is due to the fact that the lyrics are repeated throughout the song, which is a form of natural spaced repetition.
Perhaps this would explain why infants in Spain are commonly taught through Spanish music!
Our next choice goes to Las Partes del Cuerpo (the parts of the body) by Rockalingua.
This is a brilliant song with which to begin your studies through music if you are new to learning Spanish. And don't be put off just because it's a song for children!
In this song, you will be introduced to some simple vocabulary relating to body parts through very simple lyrics. Perfect for any beginner, right? Granted, it's no masterpiece, but nobody ever learned new vocabulary through Beethoven, did they?
Next up is another simple song with easy Spanish lyrics. Again, this is ideal for beginner learners because the song is slow and relatively easy to understand.
La Canción de La Ropa provides Spanish beginners with a chance to learn important, common vocabulary relating to clothes and garments. Plus, it's a catchy tune, which means it sticks in your head!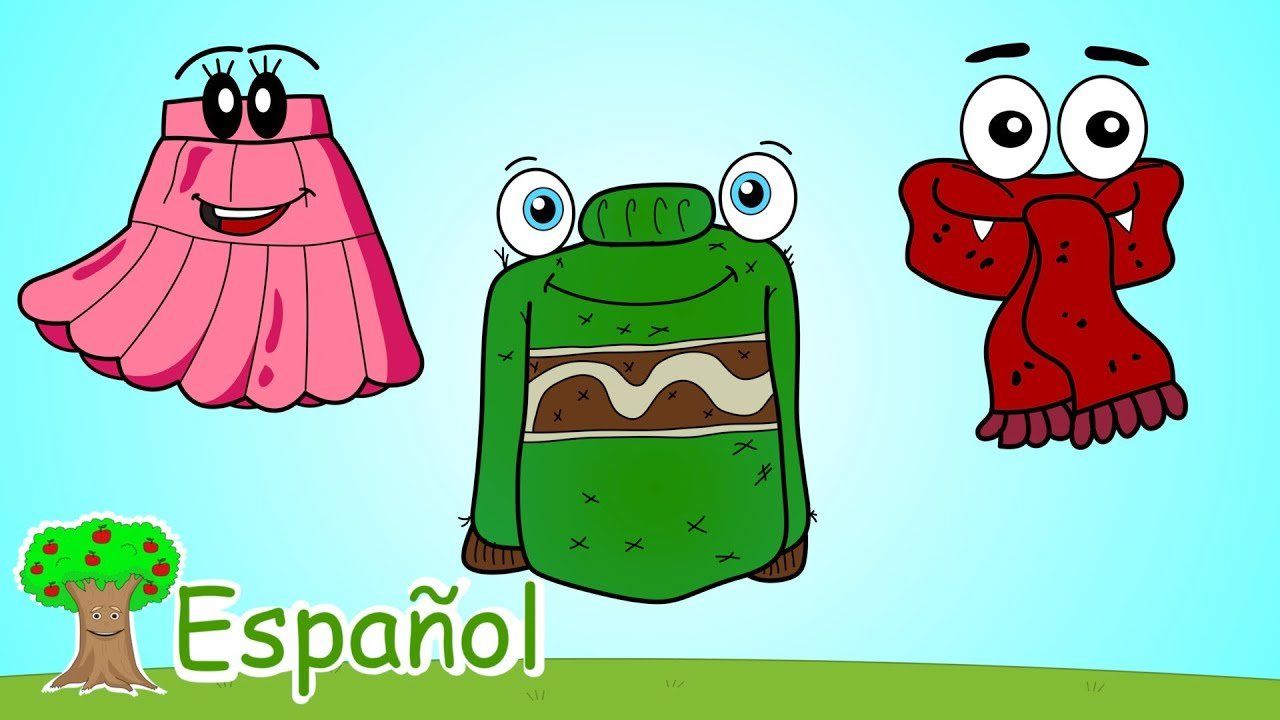 When you've learned this song by heart, you'll know more than just one set of lyrics relating to clothing. In saying that, we're taking nothing away from Juanes' 'La Camisa Negra' of course…
Finally, let's take a jump from Spanish songs for young learners to songs that the everyday beginner is going to enjoy. We start with Shakira's Waka Waka (Esto es Africa).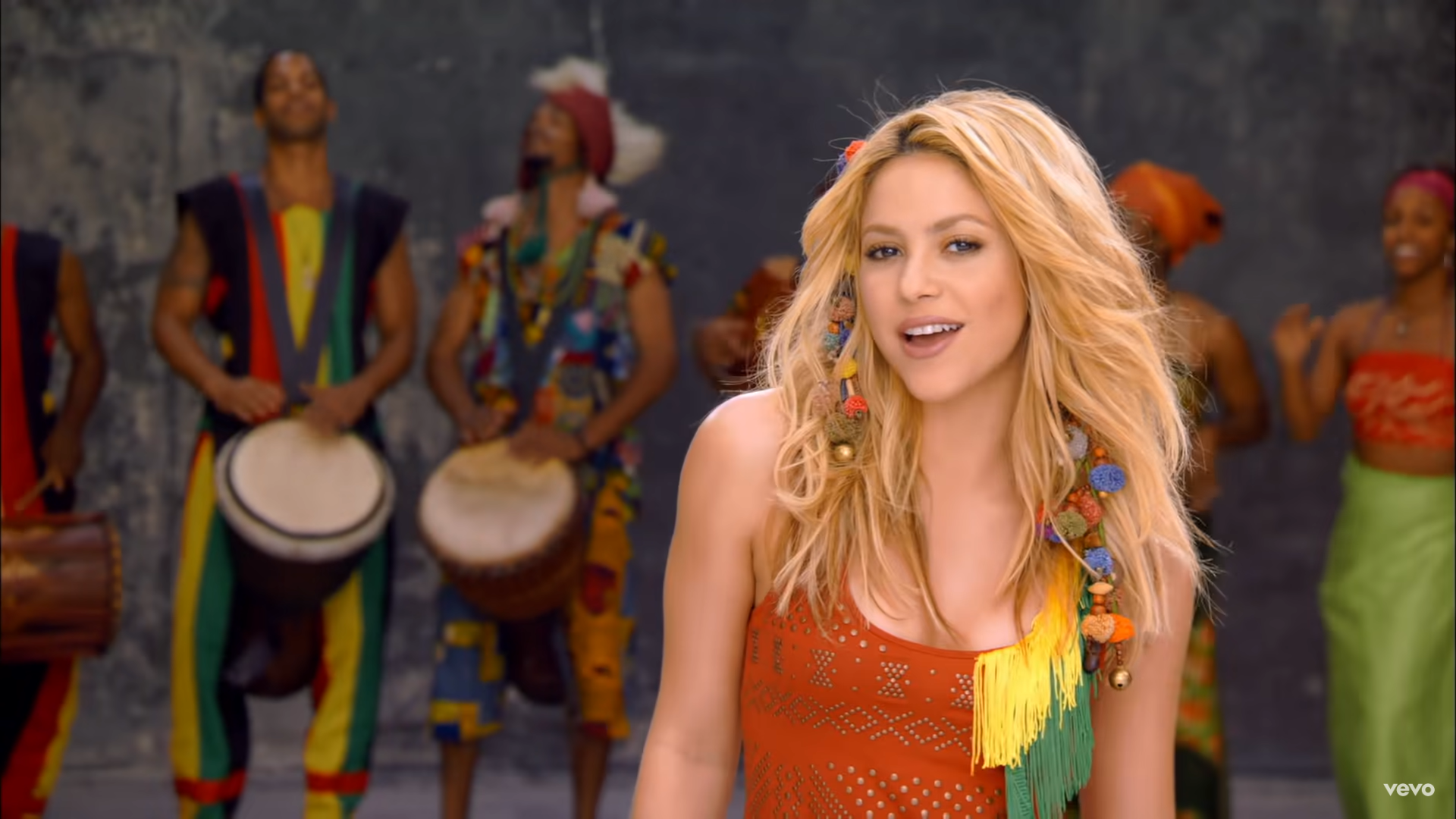 This is arguably one of the most well-known songs around the globe thanks to its association with the FIFA World Cup in 2010. Therefore, there's a high chance you already know the chorus by heart already!
Waka Waka is an extremely catchy song, with a strong spirit of different cultures and countries coming together. In fact, the lyrics are a blend of the Cameroonian Fang language, English, and Spanish.
Just like the beginner songs listed previously, the lyrics are sung fairly clearly. This makes it one of the easiest songs to understand and listen to if you're fairly new to Spanish music.
With the World Cup just around the corner, there's no better time than now to start listening!
Bailando by the one and only Enrique Iglesias, combines flamenco and pop to produce a wonderful urban Latin tune that proved to be extremely popular upon its release, and still remains loved and played regularly to this day.
Despite the fact that the chorus in this song is fast, it's repetetive and the lyrics are pretty simple to learn, particularly for upper-beginner to intermediate Spanish learners.
This song is a smash hit sure to get you dancing and singing along, all while learning Spanish!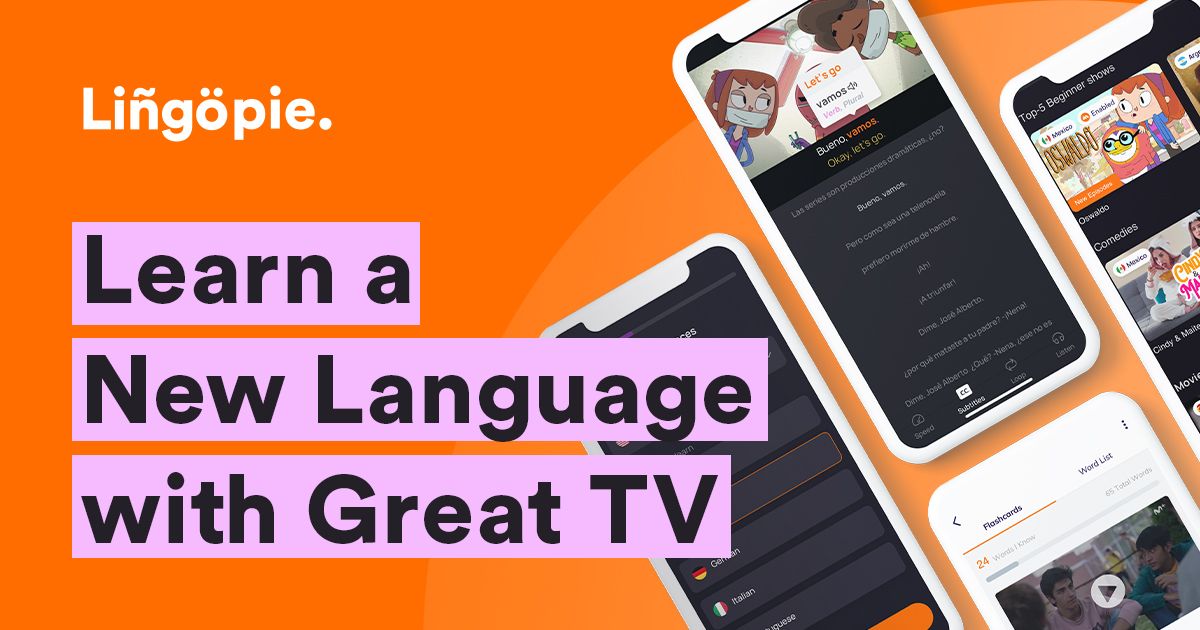 Intermediate songs to learn Spanish
If you have an intermediate level of Spanish, you'll know that listening to music can be one of the best ways to learn Spanish. It can be particularly helpful when it comes to becoming more familiar with key vocabulary and grammar concepts, as well as improving your pronunciation.
With this in mind, we will turn the notch up slightly with our next choices by focusing on some popular music genres, namely Reggaeton and pop.
These songs are particularly important to list due to their popularity in Spanish-speaking countries. If you travel to Spain or Latin America, you're unlikely to be able to escape them.
So, get practicing and make sure you know the words when it's your time to shine!
Now, you may recognize Whenever, Wherever already. In fact, it's highly likely you will be familiar with the English version of this song.
The English version of Shakira's Suerte was a huge hit in the U.K back in 2001. Yes, 2001! Feeling old yet? It remains timeless, with a nostalgic melody.
So, what better way to learn Spanish than through a song to which you already know the melody? Now all you need is to learn the new words!
Shakira is undoubtedly the queen of Latin music. It's hard not to enjoy listening to her, and we're sure you will too.
If you're planning to take a trip to Spain or Latin America, then this is a solid conversation starter. After all, Vivir mi Vida is one of the most popular songs in the Latin world, well recognized amongst various age groups, both young and old!
Marc Anthony's timeless classic is usually played in bars and nightclubs, so you'll be sure to hear it after spending any significant amount of time in a Spanish-speaking country.
The lyrics are as upbeat as the melody. Generally, they illustrate the need to live a full, happy life and forget any sadness.
The message of this beautiful song is, therefore, entwined with Spanish culture. Not only is it uplifting, but it is also a great song to learn new Spanish words.
Maluma, Ricky Martin - Vente pa´ca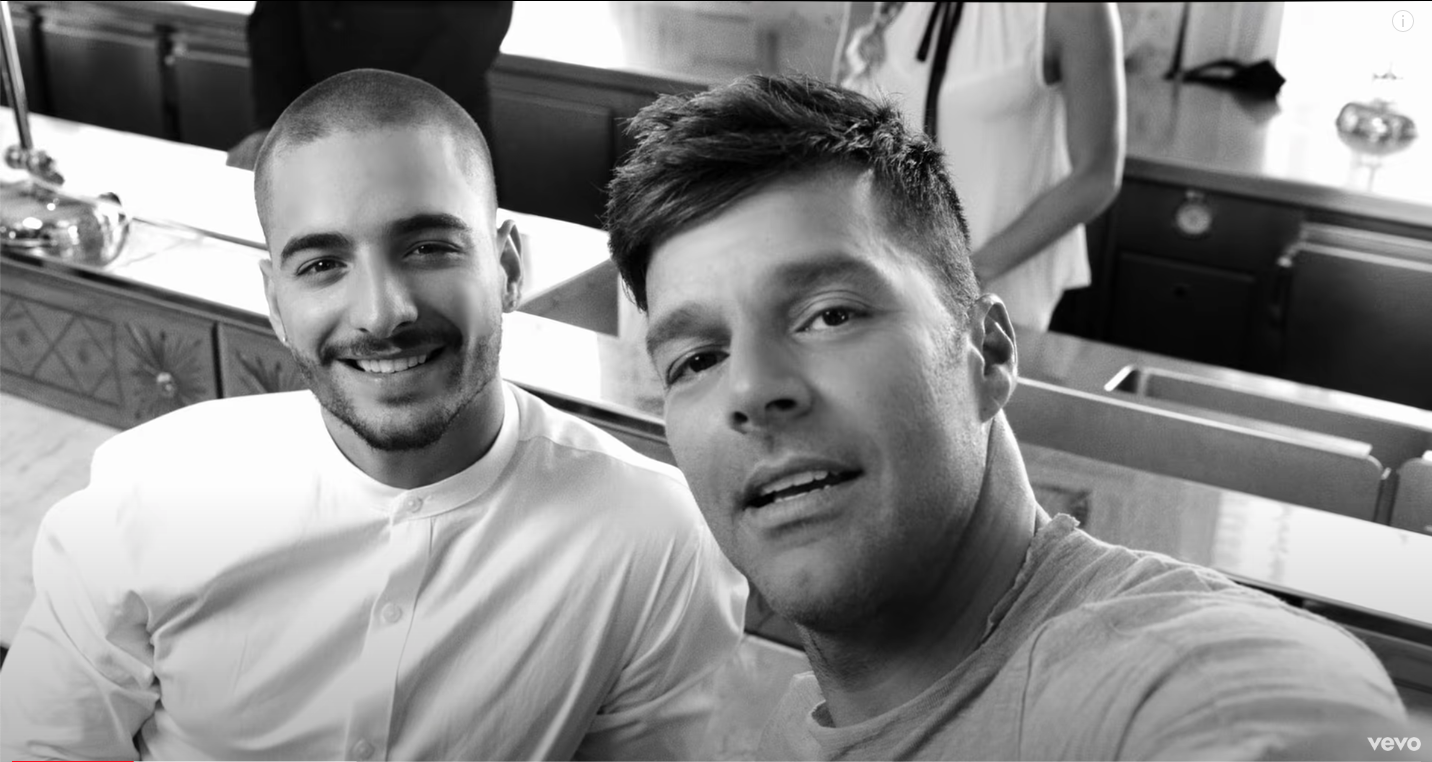 Remember Ricky Martin from Livin la vida loca, all those years ago? Well, he's still around! And making music with the one and only Maluma.
Maluma is well-known for his songs in Spanish Speaking cultures and countries. In fact, he's one of the biggest stars in the Latin world.
This song has an extremely catchy rhythm, yet the words are spoken quickly and clearly. This makes Vente pa'ca fairly easy to understand and to pick up any unknown words. Until Maluma starts rapping, that is; you may need the Lingopie Music subtitle feature for that part!
All Spanish learners should get used to listening to the likes of Maluma, Ricky Martin, and Marc Anthony. After all, their songs are loved throughout Spanish-speaking countries and you will hear them wherever you go.
J Balvin, Willy William - Mi Gente
If you don't already know Mi Gente, then we have to ask you where you've been hiding since 2017.
This song is played regularly in bars, restaurants, and on radio stations all over the world, making it one of the easiest Spanish songs to get to grips with (mainly because the song is played constantly if nothing else!)
Mi Gente has an undeniably infectious beat, making it hard not to want to dance when you hear it.
If you have moved or are planning to move to a Spanish-speaking country, you will be sure to know all the words to this song after a few weeks. Oh, and there's even a little French in there too!
Finally, for all you intermediate learners, a song with artists you may already be extremely familiar with in the western world.
Taki Taki comprises both Spanish and English words, making comprehension of the song fairly easy.
That said, the speed at which the artists sing is sure to keep you challenged. You have been warned!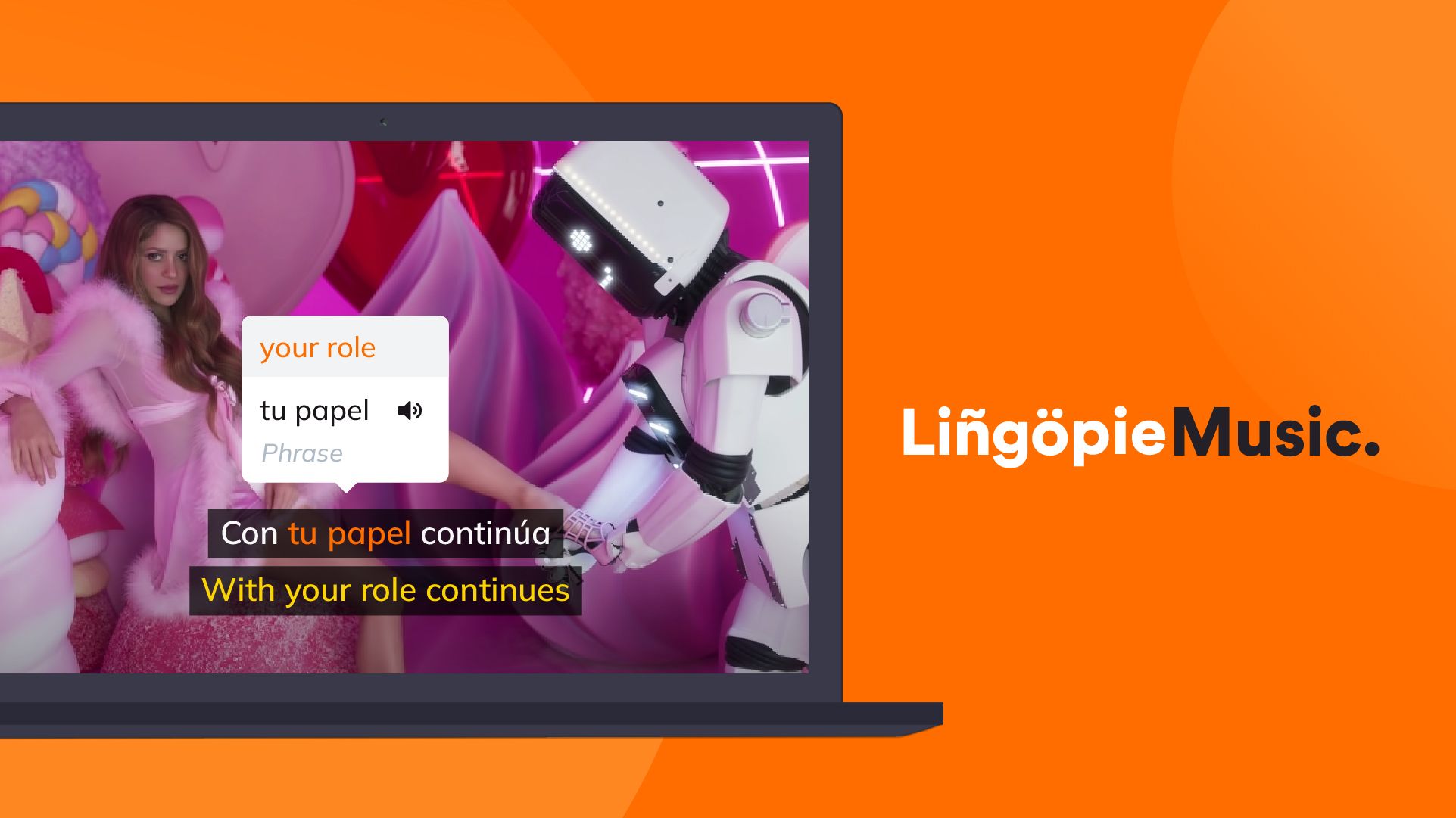 Spanish Music for Advanced Learners
Next, we will discuss the most popular Spanish songs with which to improve your Spanish language skills, particularly for advanced learners.
There are a number of reasons why learning Spanish through music can be beneficial, especially for those who already have an advanced level of Spanish.
For one, music is a great way to improve your pronunciation. Additionally, by listening to Spanish music and singing along, you can become more familiar with the flow and rhythm of the language.
This is something that can be difficult to grasp when relying solely on textbooks and traditional study methods.
First up, it's Tacones Rojos by the idolized Sebastian Yatra. This Spanish song is sure to get stuck in your head.
Sebastian Yatra is known for his light, fun music in the pop genre of Spain. Therefore, it makes sense to add his name to the list of the best Spanish songs to learn the language.
This specific love song is about meeting someone who brings love and light into your life. After one listen you'll have the song stuck in your head. You heard it here first!
Of course, we couldn't list some of the best current Spanish music without mentioning one artist in particular.
Bad Bunny is known worldwide for his music, particularly popular across the Latin world.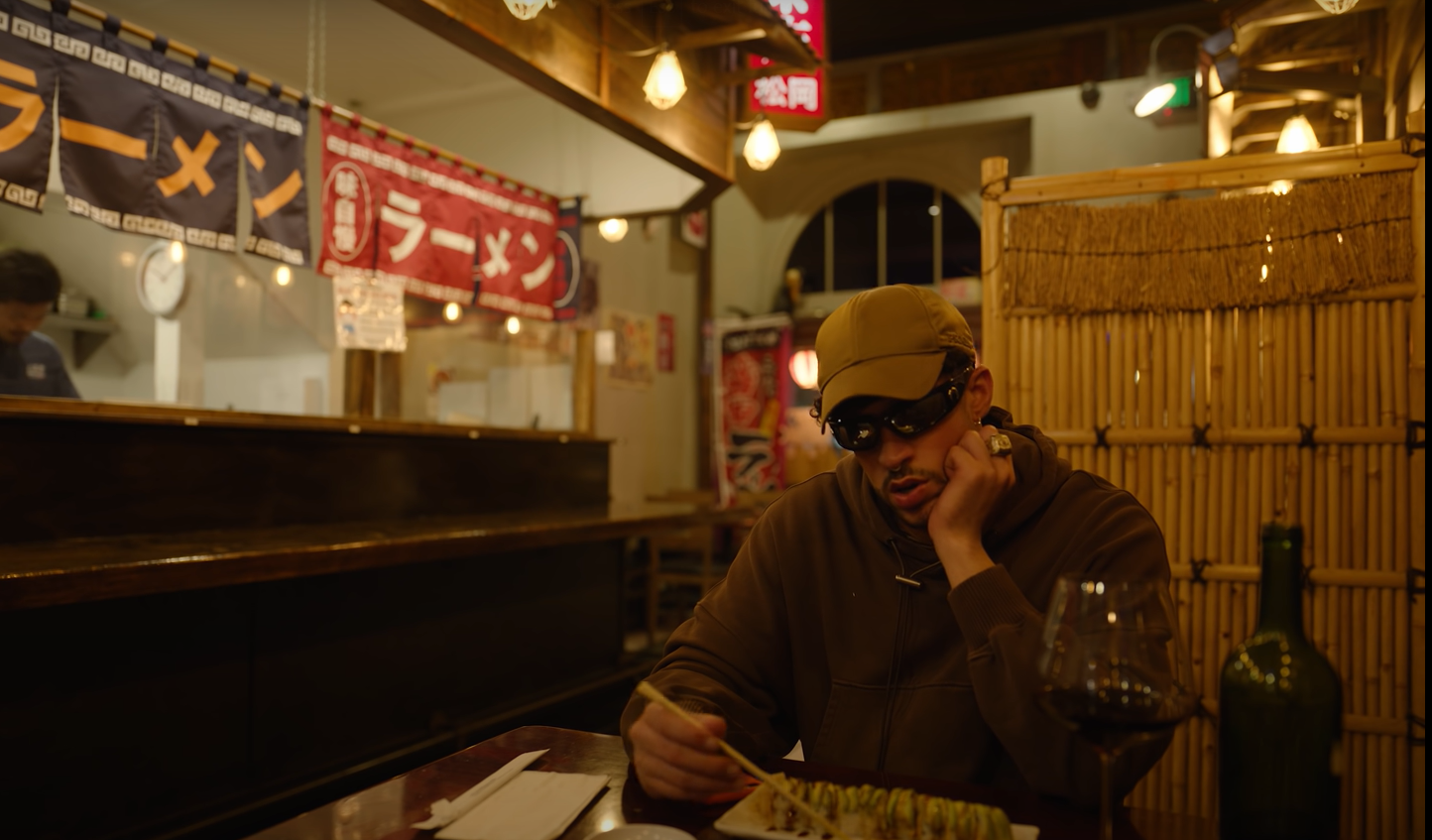 It's easy to listen to his songs, but particularly difficult to understand them, and Yonaguni is no different. Not only are there a lot of slang words and Spanish colloquialisms that even advanced learners will find difficult to grasp, but the speed at which the lyrics are spoken is comparable with rap.
That said, getting to grips with the slang of the language through one of the most popular Spanish artists in the world right now will definitely put you on your path to fluency.
Yonaguni is one of Bad Bunny's best songs. If you haven't heard it already, be sure to do so as soon as you can!
Esto Recién Empieza is a perfect fast-paced song for those more advanced in the Spanish language. Keeping up with its rhythm is a challenge, but we're confident you'll get there eventually!
These Argentinian-born artists will challenge your listening skills, not least with their distinct Spanish accents.
If you are unfamiliar with Argentine Spanish then be sure to check out this song and others from Argentina. Argentinian Spanish is a beautiful accent, but certainly different from the Spanish you may be used to hearing in popular Spanish music.
Shakira, Rauw Alejandro - Te Felicito
Shakira, the pop and reggaeton chameleon who can do almost anything, has teamed up with Rauw Alejandro to produce Te Felicito, an iconic Spanish song about 'congratulating' or giving a sarcastic goodbye to an ex who won't change.
This recent hit has proven to be popular across the globe and is sure to get stuck in your head after your first listen.
Before you know it, you'll know the lyrics faster than you can say 'Yo te amo, Shakira!'
Rosalía is one of the best female artists of the moment and is extremely popular right now in the Spanish-speaking world.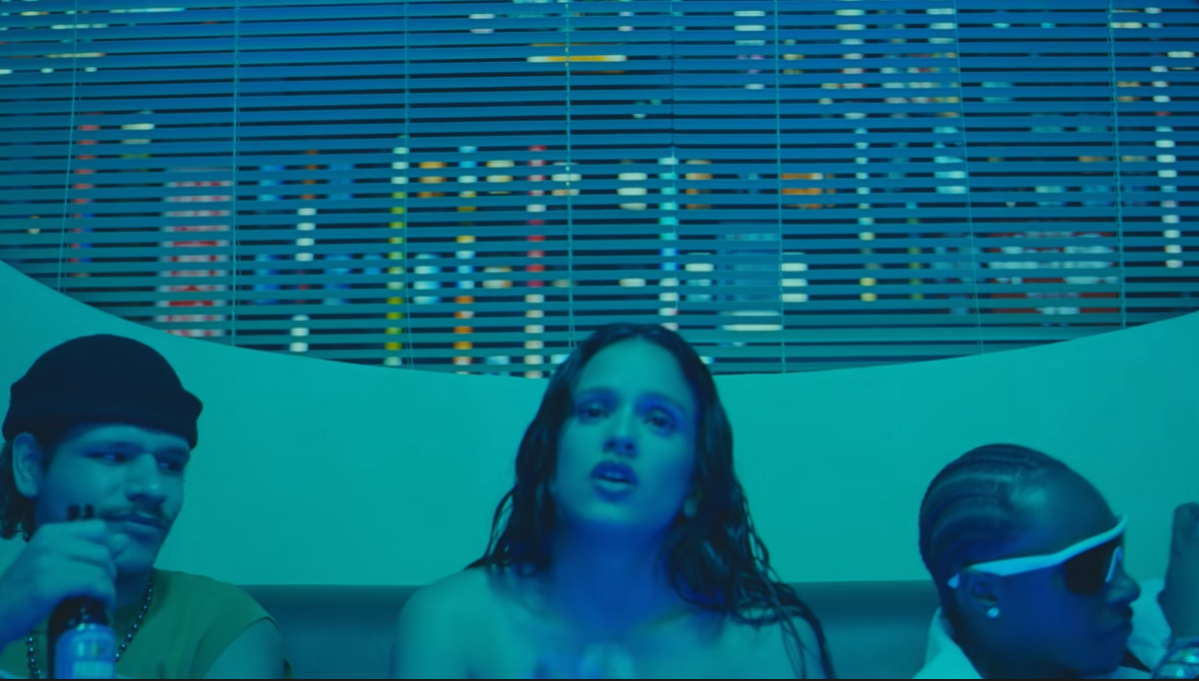 Candy is one of the singles in Rosalía's lastest and critically acclaimed album Motomami.
Her music is captivating even to non-native speakers. So, it's no wonder her music is creeping its way through to the British charts.
Barcelona-born Rosalía has a very distinct Spanish accent and singing style. Therefore, her music is perfect for advanced learners looking for a challenge!
Introducing Lingopie Music
Listening to Spanish music on radio stations is obviously a great way to familiarize yourself with the language. However, it isn't the only way to enhance your Spanish language skills.
Lingopie Music is Lingopie's newest free feature; it brings you Spanish songs and lyrics at the click of a button.
With countless genres including Reggaeton, Bachata, Cumbia, Merengue, Salsa, and more, you can find a variety of songs best suited to your level of Spanish and use them to practice your listening skills.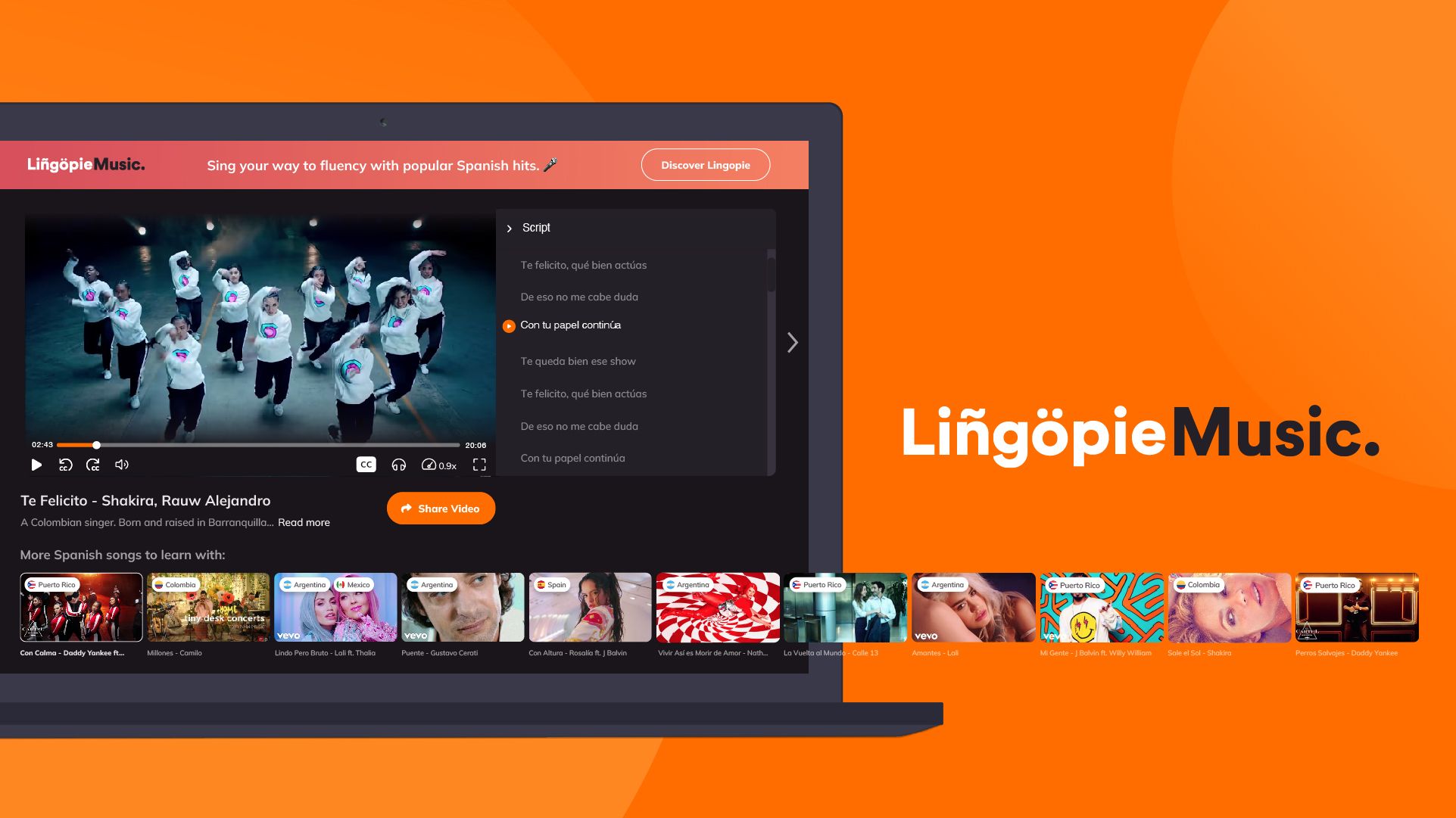 How LingoPie Music Can Help You to Learn Spanish
With Lingopie Music, you can choose to learn Spanish through songs that are specific to your musical taste preferences, be it Daddy Yankee, Shakira, Rosalía or Ricky Martin.
With Lingopie Music, learning Spanish has never been so easy. Every single word is translated at the click of a button and placed into context. This makes the lyrics of even some of the fastest Spanish songs less difficult to learn.
Users can enjoy the benefit of being able to follow lyrics whilst watching the corresponding music videos. So, you'll get to learn what the songs are actually about!
Lingopie enables you to watch and listen to artists from Spanish-speaking countries all over the world, helping you to understand different accents, as well as learn new words from different dialects in Spanish, which is key to gaining a high level of fluency in any language!
💡
With Lingopie Music, not only will you be able to improve your pronunciation and listening skills, but you'll also be able to pick up new vocabulary and get a feel for the rhythm and flow of the language. Plus, it's just a lot of fun and absolutely FREE!
When you have finished listening to the music, you will benefit from the activities available within the Lingopie platform, including flashcard and repetition exercises.
Whether you want to learn new tenses, such as the past and future tense, or make use of the additional tools available to you, you can do so with Lingopie.
Summing up: The Best Spanish Songs to Learn Spanish
So, there we have it. We've covered a range of music in this post and we hope you've found some inspiration along the way! Learning a language through song is easy and a great way to familiarize yourself with a new language.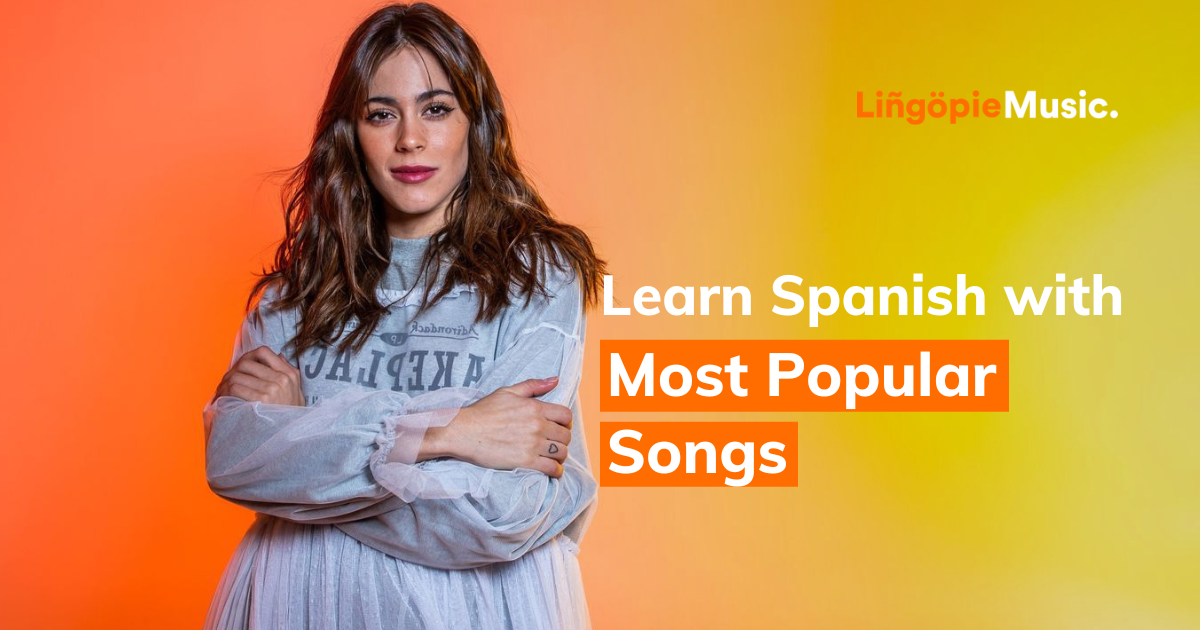 By now, you should be familiar with a range of Spanish songs for beginner, intermediate and advanced learners. If you're still not sure where to start, then why not try Lingopie to help you with your Spanish language learning journey?
You'll get access to music, movies, TV shows, and more, all as part of a 7-day free trial. So, what are you waiting for?
Good luck, and enjoy!