💡
Lingopie is an innovative and unique language learning platform that utilizes the immersive experience of watching TV shows and movies with the specific goal of teaching new languages to its users.
In essence, Lingopie offers you a novel and highly authentic way to learn a language through TV. It immerses you in the culture of the language you're learning and teaches you the new language through native films and television from around the world.
Besides making it more fun and engaging, watching movies and TV shows has been shown to be a highly effective tool for language learning.
Lingopie's rationale rests upon this mind-opening knowledge and that is why we offer a diverse and comprehensive catalog for all our language learners to make use of when they embark on the courageous journey toward learning a foreign language.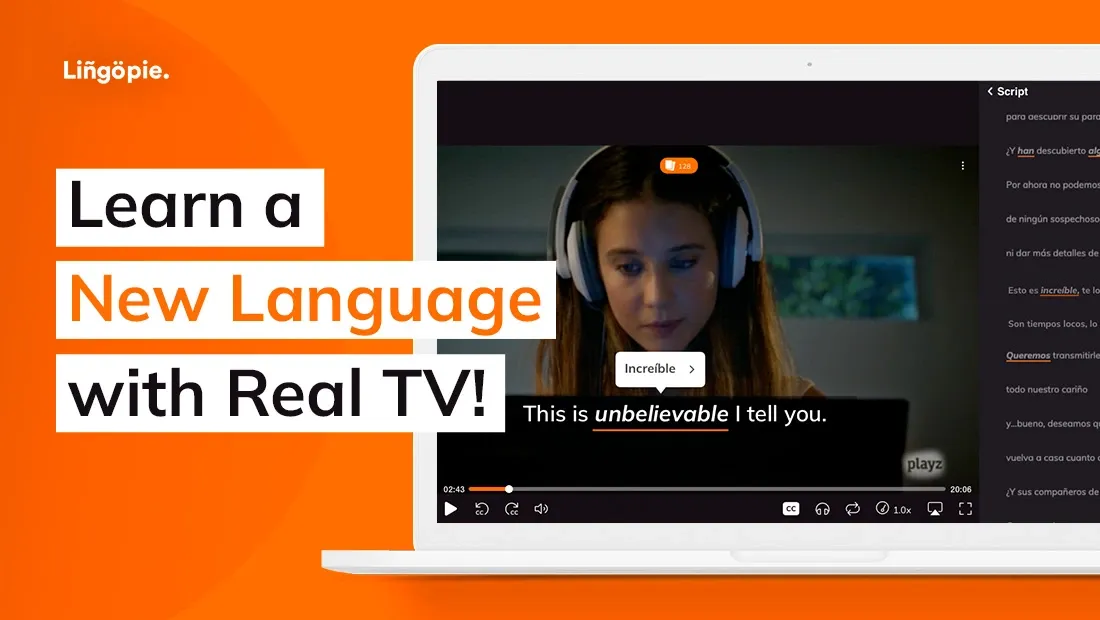 The Lingopie Learning Method
The Lingopie learning method will help you reach your goal in the quickest, most practical way possible. Fundamentally, instead of memorizing words through repetition, you'll be learning in context by becoming familiar with how natives actually speak in real-life.
That's not all, though! In addition to the wide range of media content available, Lingopie has created numerous features that were designed and catered specifically to enhance our subscribers' learning experience.
These features can help you optimize your language learning since they incorporate a wide range of aspects related to language learning to make sure that your experience isn't solely passive.
That's how we make sure that our learners have access to an integral and holistic approach. This way, our members get a well-rounded and complete absorption, rather than simply working on one isolated competency.
That way, you can upgrade your language learning in a way that is conducive to your growth. In order to assist you in making the most of all our features, today we'll be outlining them and showing you exactly how to use them. You should get all that you can and more out of our platform!
💡
In fact, for your convenience, Lingopie is available both on mobile (Android & iOS) and as a platform/app on your desktop.
Features available on Lingopie
First of all, let's help you get acquainted with the basic functions that Lingopie has at its users' disposal. These primary features will help you take your first steps toward learning the foreign language of your choice.
By subscribing to Lingopie, you can pick a language, choose from thousands of shows, sit back and binge-watch your way to fluency… Almost!
Let's see how you can use Lingopie to learn a new language with great TV.
Unlimited access to all TV shows in 8 languages
That's right! On Lingopie, you'll benefit from content in 8 different languages, namely Spanish, French, Italian, German, Portuguese, Russian, Korean and Japanese.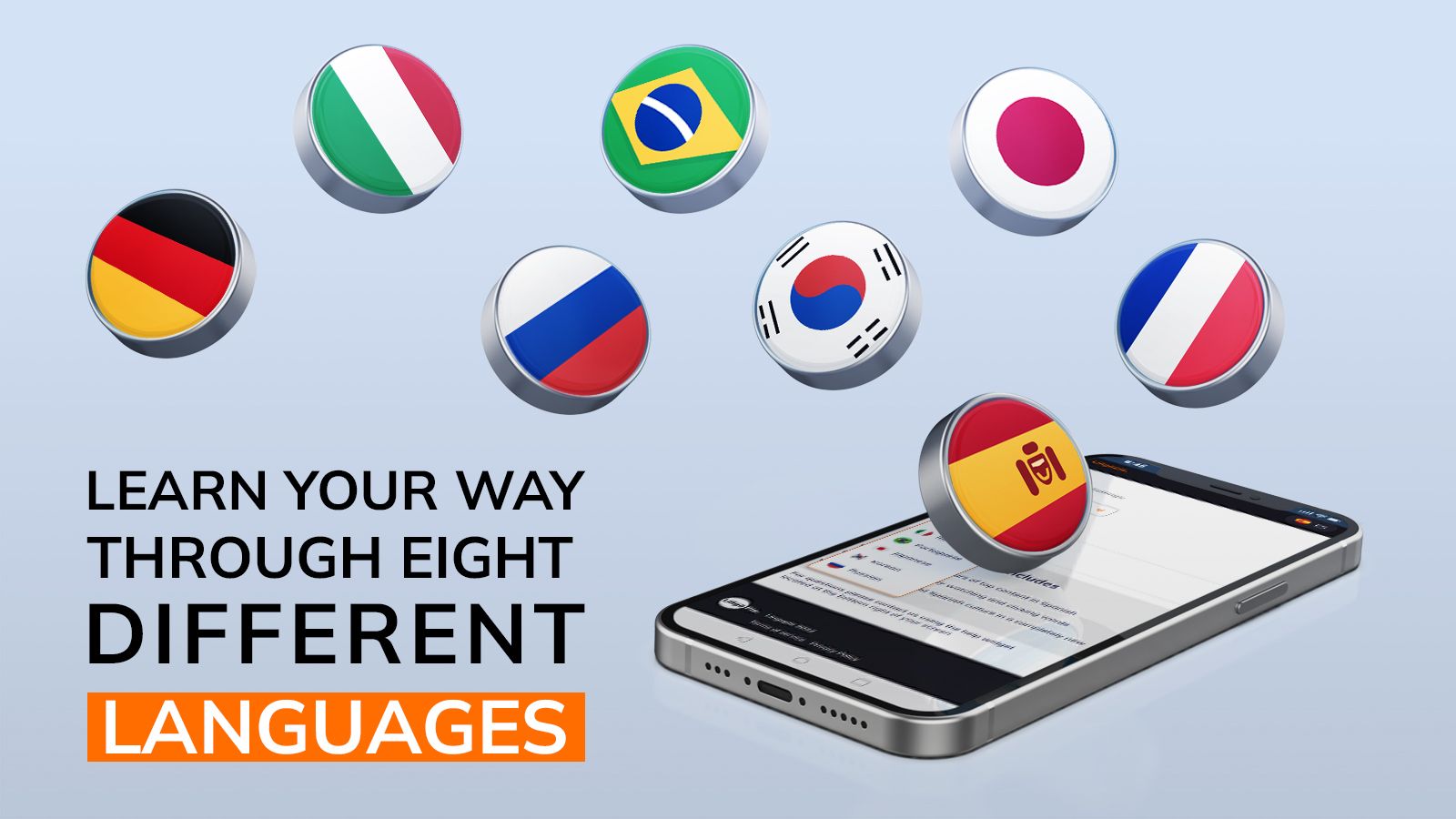 By coming into contact with the type of content that natives themselves watch and binge on, you'll be having the full immersive experience that you need to truly dive into your target language.
With Lingopie, you can become fluent naturally by watching and listening to native speakers on TV. You can try out this new way to learn a language through immersion, by binge-watching the best TV and film content in the language you're trying to learn.
Lingopie Kids (Spanish)
Lingopie Kids is a space to learn Spanish with cartoons, kids' shows and movies. This is the perfect feature to have a fun time with great video content in Spanish for kids.
As you explore Lingopie Kids, you'll encounter a safe space specifically designed with kids, parents and families in mind.
This tool represents double value for both parents and children: you'll be learning while watching, while also getting to spend some quality time together as a family. This type of pedagogical learning is what Lingopie is all about.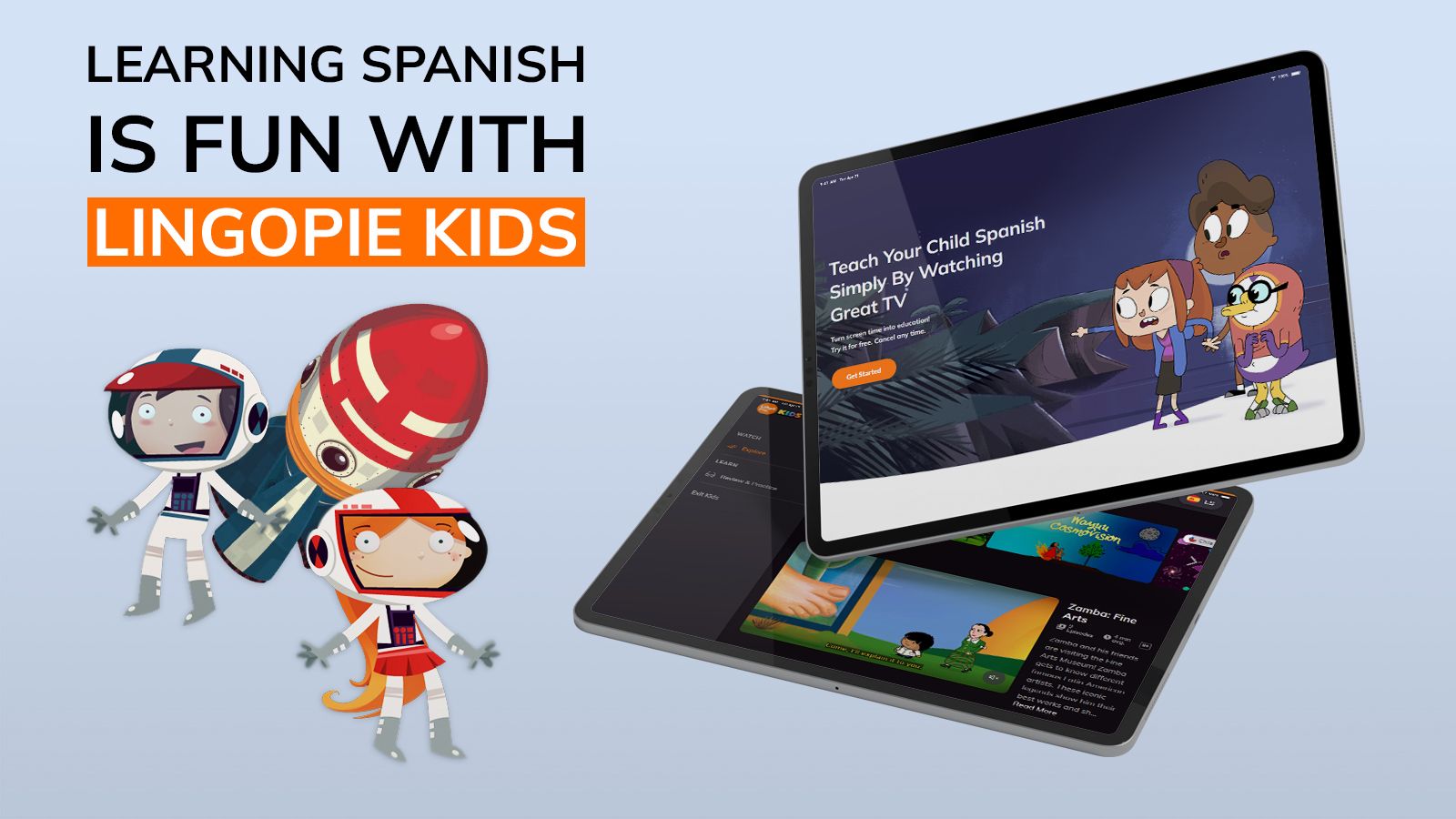 Casting
The casting feature was devised to make users' access to the TV shows and movies available on Lingopie as easy and expansive as possible.
It allows you to transfer our content directly to your TV via Chromecast and Airplay, and it's available in our mobile app.
That means that you are not limited in terms of how you are able to access our content! You don't have to stick to watching it only on your computer…
With the casting tool, you can sit comfortably on your couch and watch your favorite shows directly on your TV, as you would with other shows in your native language!
Search Bar
To make your experience as user friendly as possible, we've made our search bar intuitive and simple to use.
You can access the search bar on all of our catalogs through the magnifying glass icon in the top right-hand corner. Once you click on it, it's going to prompt you to search for different titles, genres or dialects.
Once you've browsed the shows that are available on our platform and have decided on which one to watch, you can look it up through our search bar and find it right away!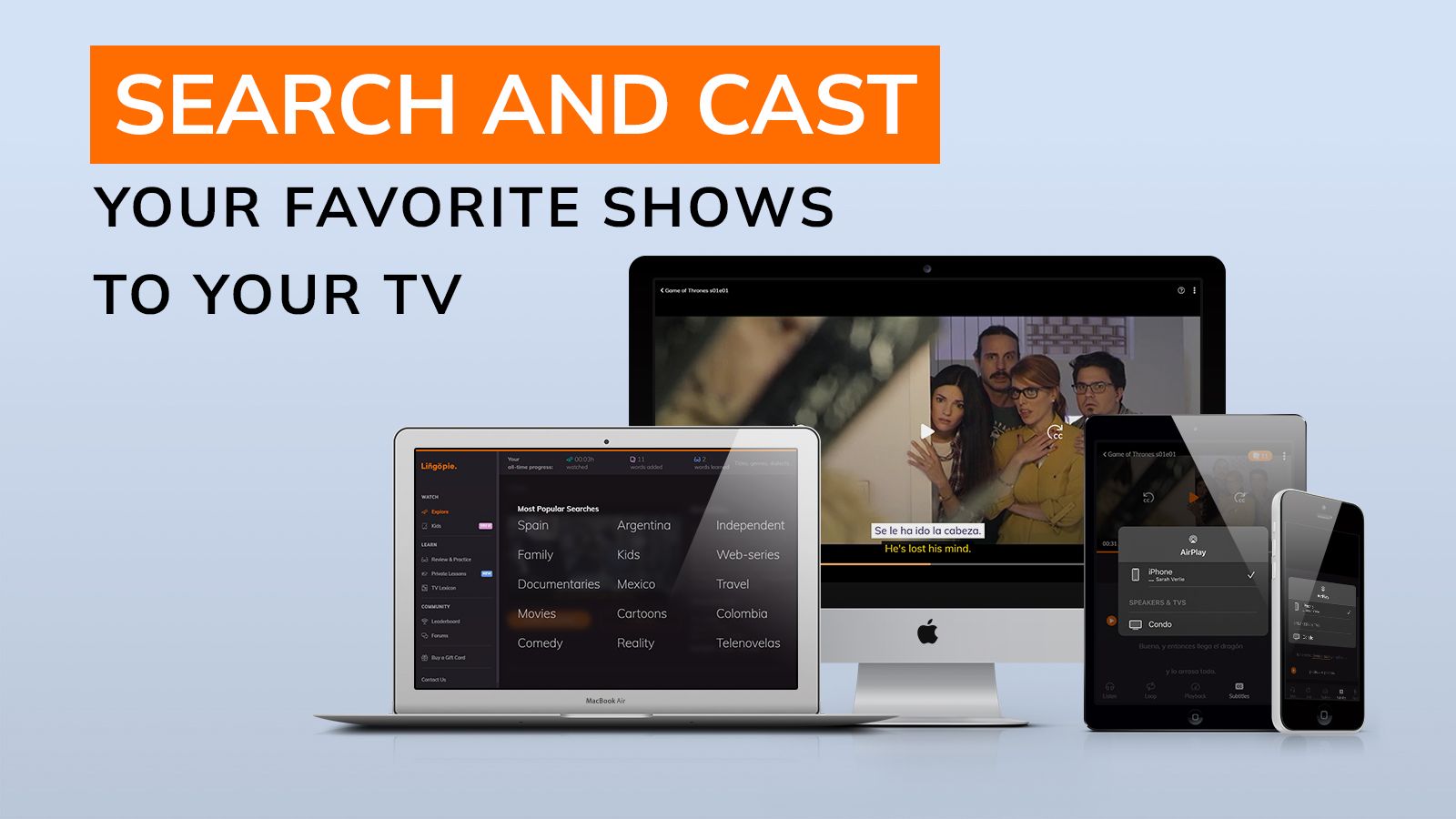 Video Player
💡
Now for the distinct features available once you start watching your selected show or movie on Lingopie's video player. These are designed to support you as you binge-watch your favorite shows.
These features will truly enhance your learning journey and are what distinguishes Lingopie from other streaming services. These unique and original tools make Lingopie the most effective language learning platform available today.
We're here to help you get the most out of your language learning experience.
Watch & Click
All the shows available on Lingopie come with two sets of subtitles. You have access to the subtitles in English and the subtitles in the original language of the TV show that you're watching.
If you click on any word that comes up, you'll be able to get an instant translation.
This feature can be used in different ways:
Dual-subtitles – If you pick this option, the subtitles will be displayed in both the foreign language and in English. If you'd like to pick one, you can turn them off by clicking the buttons at the bottom right side of your screen.
Interactive subtitles – By using this feature, you'll be able to find out the meaning of words that you're not familiar with instantly. You can get an instant translation by clicking on the subtitled words that you are not familiar with.
On-screen transcription
On the Lingopie app, when you watch each TV show, you have the option of having a sidebar script that shows you all the sentences of the show, movie or audiobook that you're playing.
You can click on each subtitle to jump to it or click on each word to listen to its pronunciation. You can leave the script open or you can close it to see the video on full screen.
Playback speed
The playback speed option will allow you to go at your own pace, which is essential for language learning.
You can change the speed of the show or movie to your preferred language learning level. That way you'll still be immersed in your target language and you'll be listening to natives as they speak.
However, if you're not at a stage yet when you're able to follow the conversation at normal speed, by using this feature, you'll still be able to follow what's being said.
Mash-up
This option is quite easy to follow and is perfect for beginners. It combines the English subtitles with the original foreign language of the show to create a contextual learning experience.
It'll have certain key words pop up in the original language as you're watching with the English subtitles.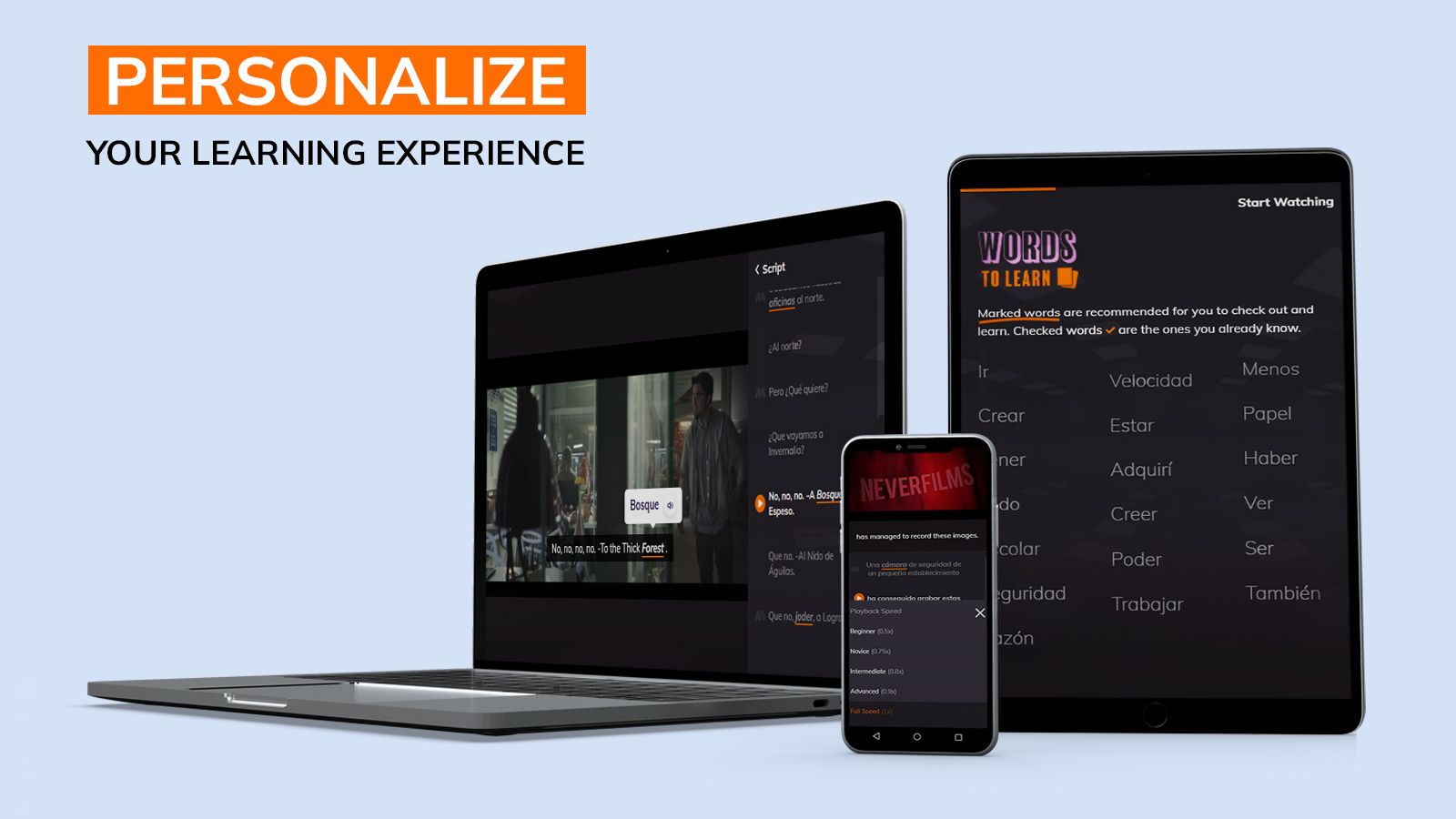 Words to learn
In order to help you maintain the focus on specific words that may be useful to learn as you're watching your chosen TV show or movie, you can use this tool.
Before the video starts, a pop-up with the title "words to learn" will appear on the right side of the screen. It contains a list of highlighted words from the episode that are recommended to learn by our language team.
Say-It
This feature is highly interactive and it'll allow you to practice your pronunciation while you watch your selected show!
By clicking on the microphone icon in the bottom right corner you'll be able to pronounce certain sentences and phrases and get instant feedback from our platform in the form of a score to monitor your progress.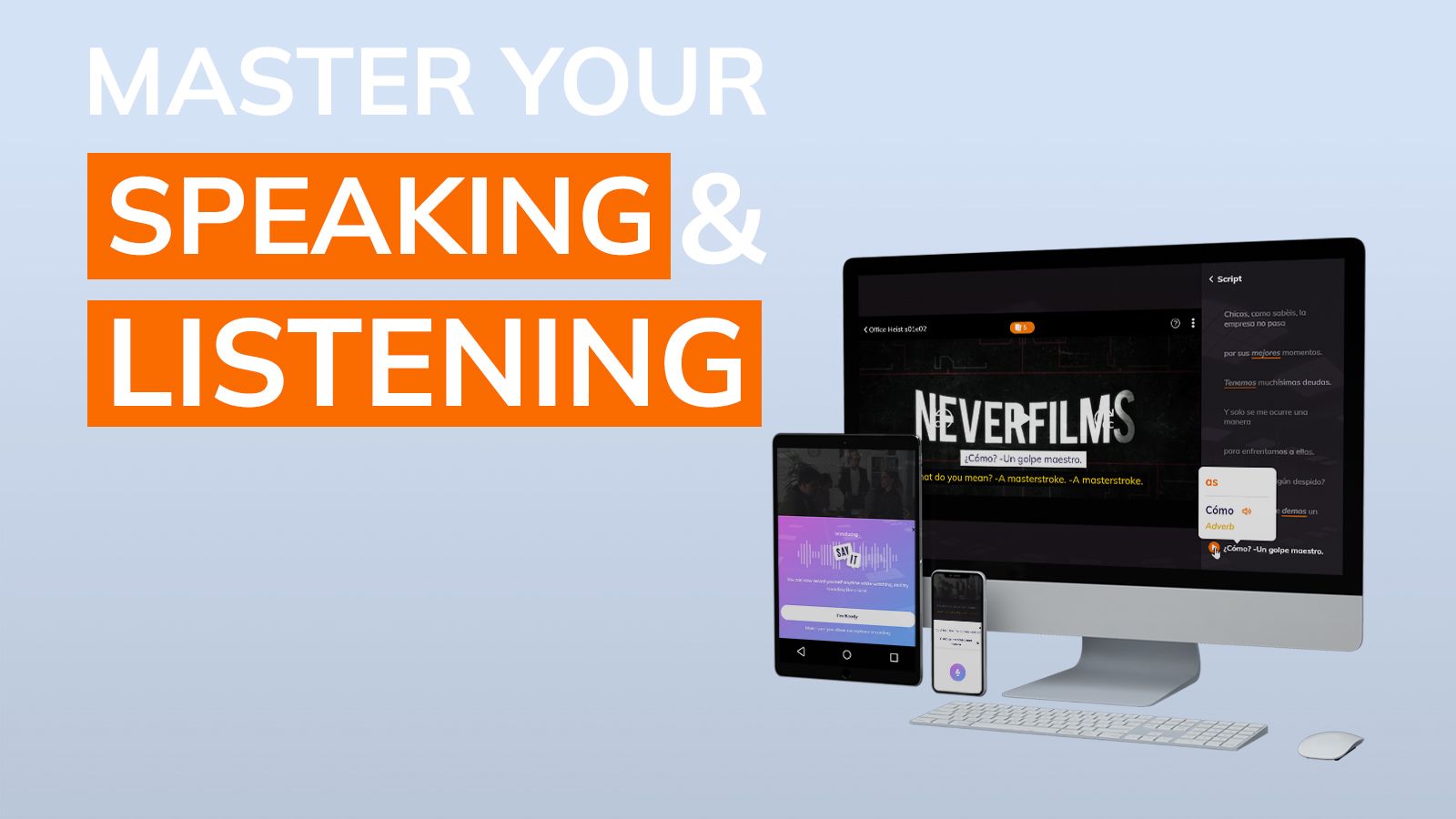 Speak sentence
If you'd like to master a specific phrase or focus on a specific sentence, the speak sentence feature lets you repeat the audio of the selected words in context as many times as you want.
In order to do so, you just need to press the 'cc' button backward or forward and you'll automatically be taken to the previous or following caption. This feature is particularly useful for practicing listening.
Loop sentence
In fact, if there is a useful sentence that you would like to consolidate then you can choose to listen to it in a loop.
You can loop selected phrases or sentences so that they will play over and over again, as many times as you want. This is also very useful for practicing listening and comprehension.
Review & Practice
These features are part of what makes the Lingopie experience the most well-rounded language learning experience available online.
Not only can you watch your favorite shows; you can also consolidate what you learn through revision and practice.
💡
These exercises and games are easily and readily available on the left side of the catalog.
Flashcards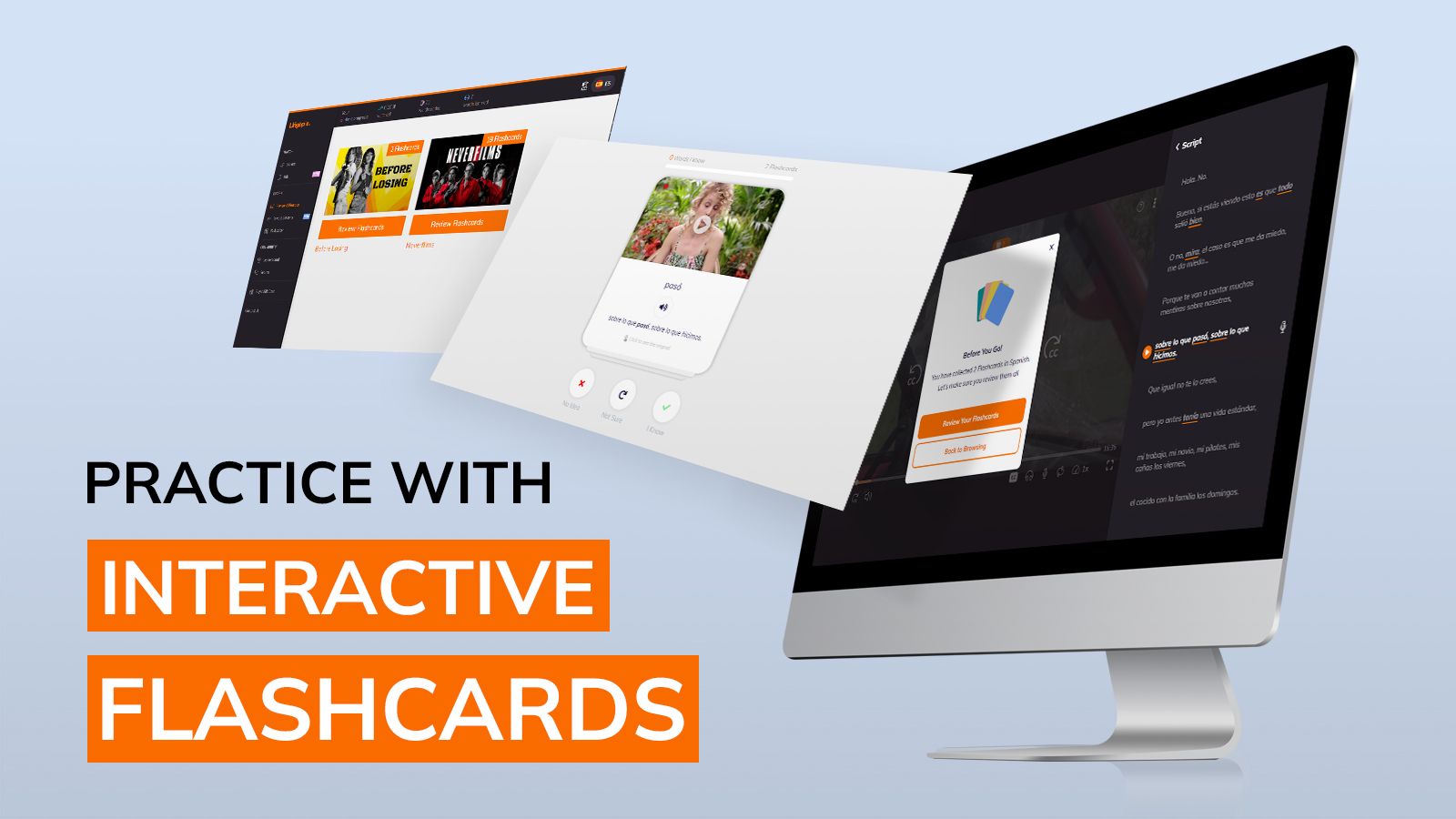 Even after you've watched your selected TV show or movie, Lingopie offers you the opportunity to practice certain words that you choose. You can add these to a selected list of our built-in flashcards feature.
You just need to click on the word that you'd like to save to your flashcards and it'll be automatically saved.
You can then review these words after you're finished watching a certain episode or film.
💡
By using Lingopie's built-in flashcards, you can review what you learned with contextual and video-based flashcards, i.e. you'll have the option to play the scene in which the word appears again.
By using this feature, you can track your progress as you watch and see your confidence grow. You will find all the flashcards you have created arranged by show.
When you click on the flashcards button, they will be shown to you one by one. For each flashcard, you can see the words come up in context.
Quizzes
Once you've collected more than 2 words and they've been added to your flashcards for a particular show, you can then start practicing your vocabulary by taking our quizzes.
You can either play while watching or you can access the quizzes directly in your own free time, by clicking on the Games tab in the Review & Practice area.
In order to play by watching, you just need to click on a word and you'll be given the option to go to the quizzes area within Lingopie.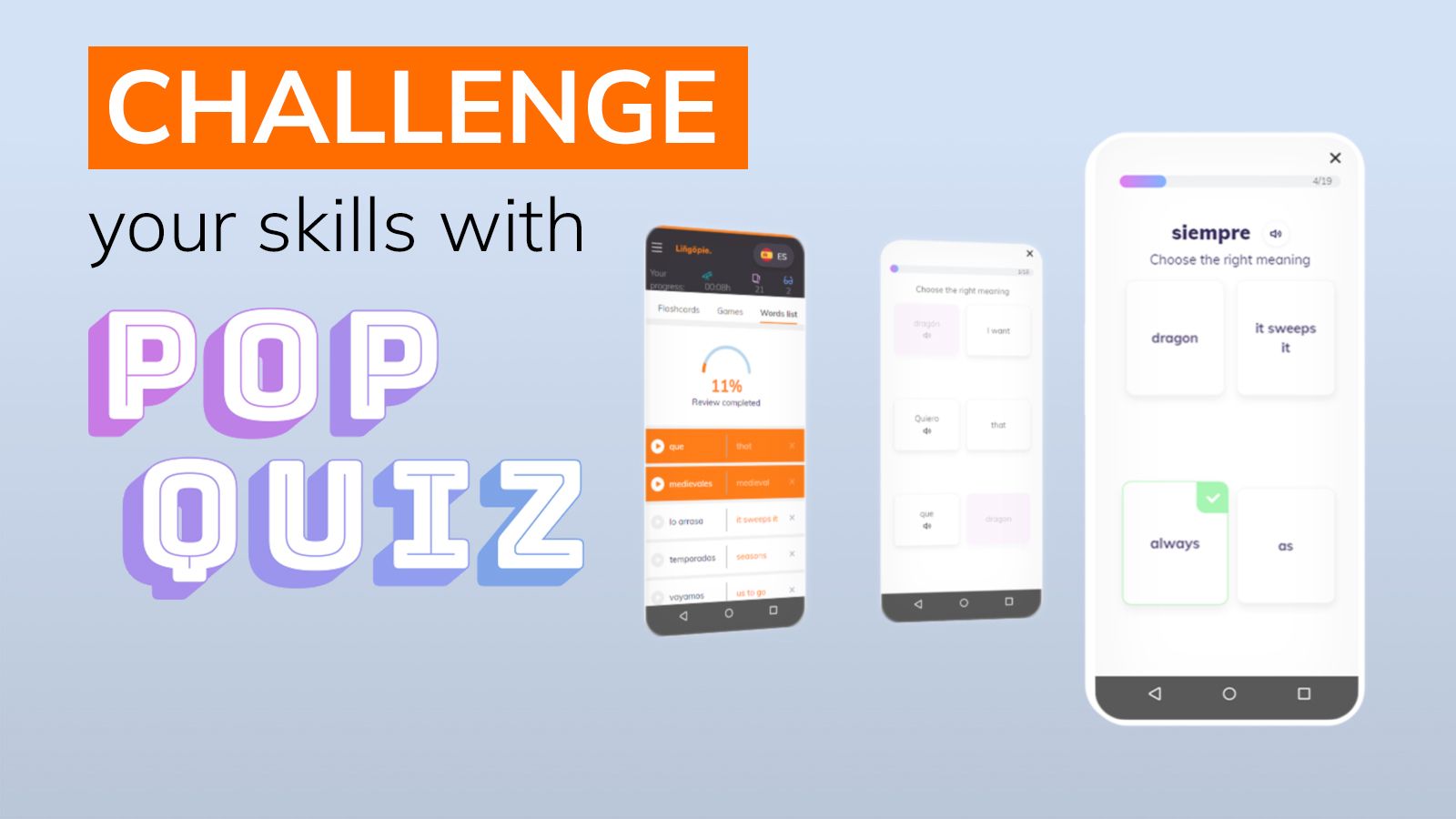 Word Master
In addition to our quizzes, Word Master is another entertaining game that Lingopie users can play to work on their language skills while having fun.
Word Master is a fun word-matching game that will be useful to practice the words that you learned while watching the TV shows.
Words list
This tab will show you all the words you clicked on in a TV series or movie and their corresponding translation - in one place: learn, review and manage your list.
Private Lessons
Through the Lingopie app you'll even be able to connect to an expert / private teacher that will guide you individually on your language learning journey.
Start practicing your speaking abilities with a teacher and take your learning even further. This feature is available in Spanish, French, Italian, and Portuguese.
You can subscribe to a monthly private lessons plan to upgrade your conversational skills and deepen your knowledge of your chosen language.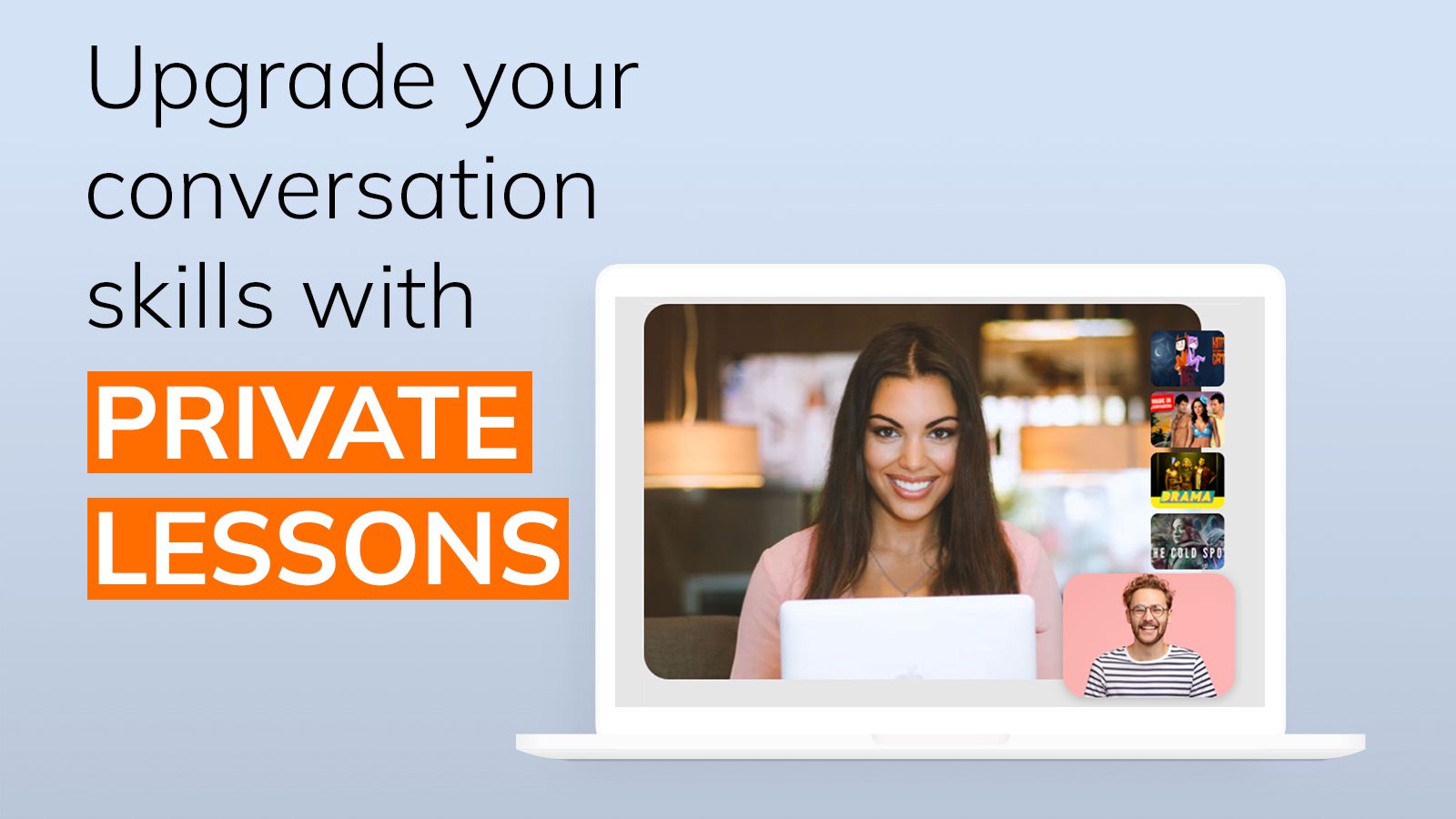 Community
Since language is all about communication and interaction, the optimal Lingopie experience wouldn't be complete without the enriching aspect of community.
This is why we have included this section of features and made them available for subscribers on Lingopie.
💡
These spaces are all about connecting with other language learners and applying what you've learned while watching TV and practicing on your own.
Leaderboard
The leaderboard was created to encourage our users to be the best they can be. It helps them keep each other motivated to improve!
Essentially, it is a board where users get ranked according to the amount of time they've watched Lingopie content, as well as the flashcards they've created and learned in the process.
The following features also belong to our community, but you'll find them outside the app:
Webinars
Practice makes perfect! And it's widely known that applying what you learn in conversation is a crucial part of becoming fluent in a foreign language.
That's why, if you subscribe to Lingopie, you'll also have access to free open classes where you can practice your conversational skills with your fellow Lingopie members.
Our webinars exist to help you learn a new language with TV and practice it right away with our teachers and other learners.
Forum
Lingopie offers community forums which are exclusive to our users.
In these forums you'll be able to find a page for each language, as well as all the recordings of all our free webinars. Moreover, you'll find information about Lingopie's events and latest news.
Lingopie users are welcome to participate actively in the forums.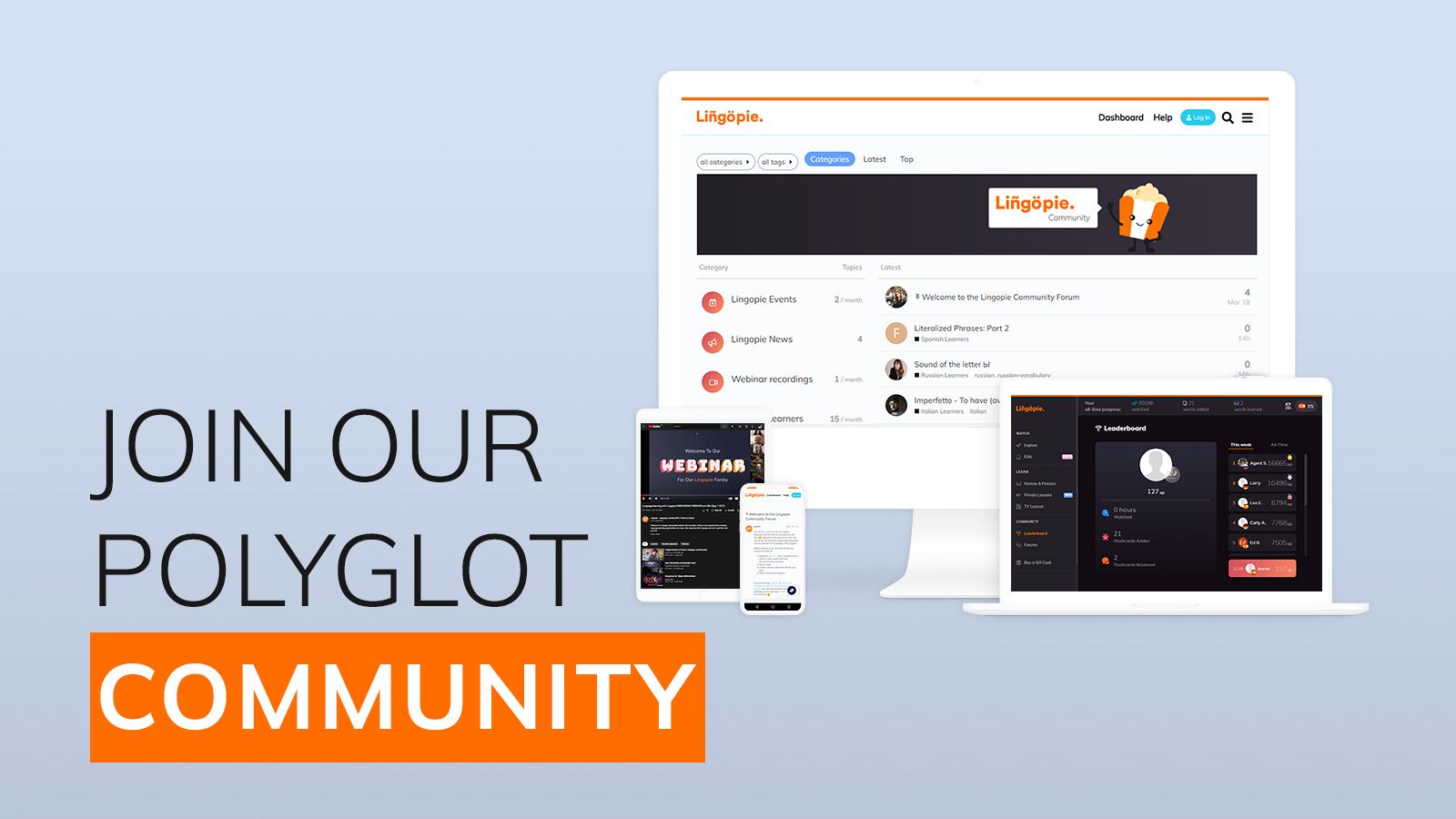 Get Started with your Language Learning on Lingopie
As our world becomes increasingly globalized and interconnected, the need to create bridges between people from different countries and cultures becomes all the greater.
Creating those bridges undeniably involves language, because language is the tool that we use to convey meaning and to put across a message.
In order to facilitate language learning, Lingopie has emerged as an innovative and unique platform that is both engaging and useful. Our goal at Lingopie is to make your language learning as enjoyable and effective as possible.
If you make the most of our platform you will be taking your language learning to a whole new level.
Watch. Binge. Learn. Simply put, this what Lingopie is all about. If you haven't already, take your free trial with Lingopie and become a polyglot!
Lastly, if you'd like to support our ever-growing circle of language learners and make sure you keep up-to-date with what's happening in the Lingopie community, don't forget to follow us on our multiple social media accounts:
We're waiting for you...