Learning languages does not have to be a tedious and arduous process. And Instagram doesn't have to be your most addictive source of distraction. You can read that again.
Yes, we said it! Mindlessly scrolling through your feed, which at times you may consider procrastination, can actually be used as a productive learning experience. By combining the best of both worlds, you can use Instagram to learn Spanish.
There are great Spanish learning accounts and helpful Spanish resources on Instagram that you can draw on to boost your learning by bringing the language into your daily life.
Recommended: What is the Best Way to Learn Spanish?
In this article, we are going to point you in the right direction and spare you a lengthy and time-consuming search.
Below is a detailed list of the best Instagram accounts to follow to learn Spanish, organized according to level.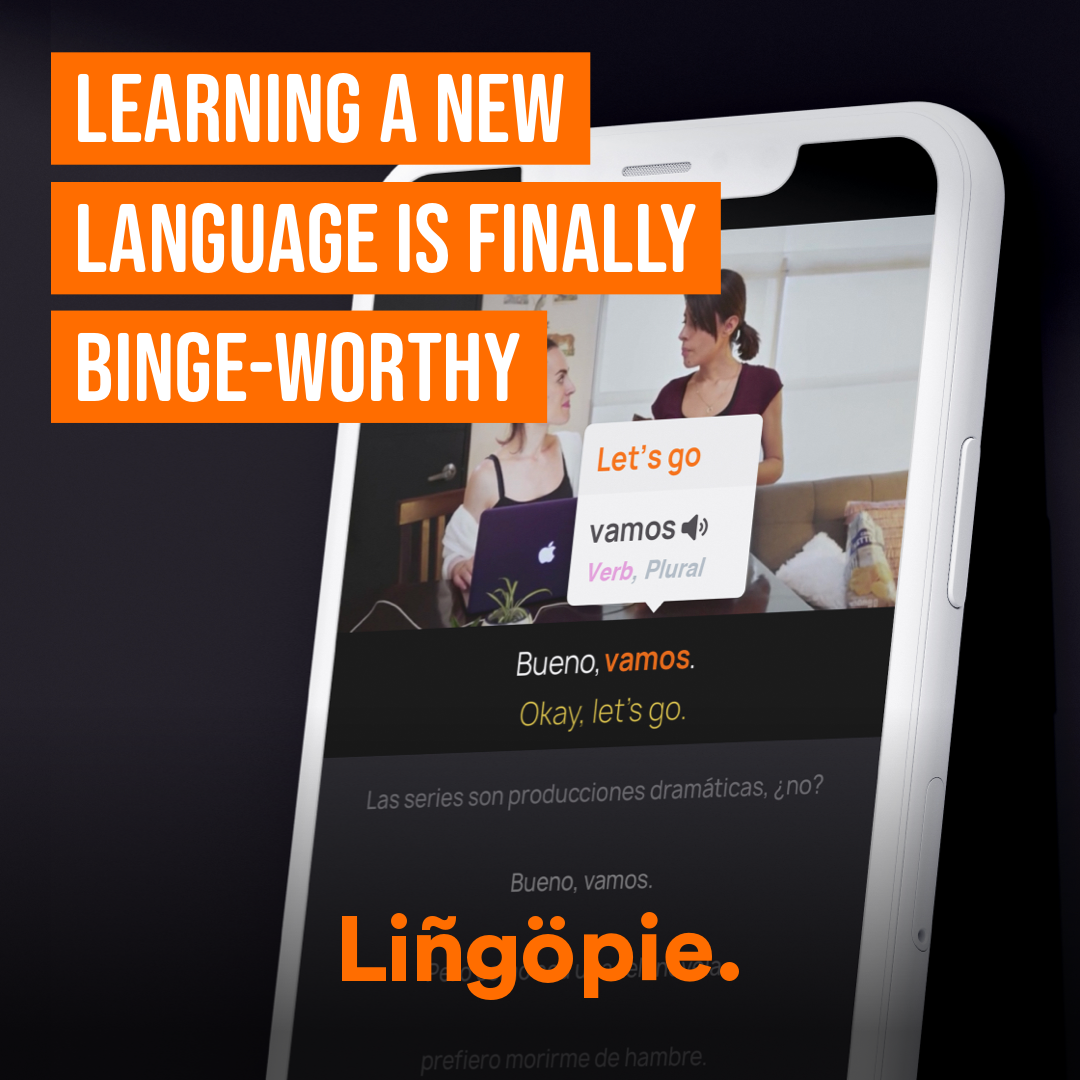 The Best Spanish Instagram Accounts for Language Learning
From memes to Tik Tok videos, to infographics with Spanish phrases and movie clips with Spanish and English translations, you'll come across a bit of everything.
It's all a matter of finding what works for you. Let's take a look!
Beginner Spanish learners
1. Learn Spanish with Vicky
Vicky is a Spanish teacher from Barcelona, Spain and her content is a combination of videos of herself pronouncing Spanish phrases with infographics that help you learn visually.
Her Instagram account is great for beginners because she explains the topic or Spanish phrase in English before switching to the Spanish language. In addition, she focuses on common mistakes that Spanish learners tend to make.
Vicky will first pronounce the new words or phrases at a slower speed, enunciating each word separately, before saying them at normal speed.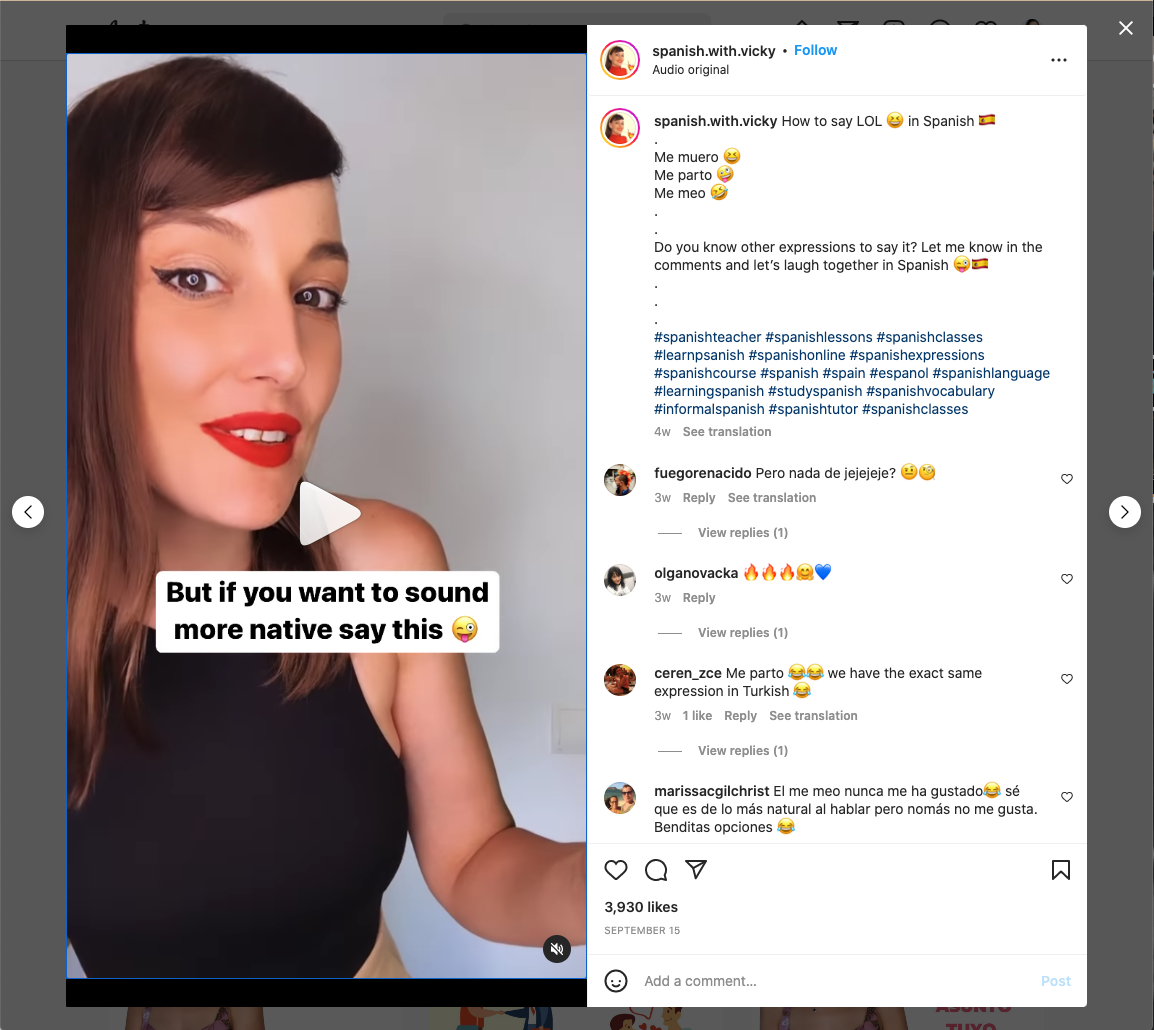 What you will learn with Learn Spanish with Vicky
As a Spanish learner, you'll find that Vicky's posts include common expressions and practical phrases for daily life that you can apply directly in conversation, just as a native speaker would. Vicky offers you several examples of how to do so in context.
In addition to this, you'll find grammar resources available to download. You can also check out Vicky's online courses if you wish to take your learning journey even further.
2. Learning Español
This Instagram account is run by Spanish VIP, which is a language academy that offers award-winning Spanish lessons. Their official Instagram account is @spanishvipofficial.
Learning Español provides followers with valuable resources to help them learn the Spanish language.
Their posts are comprised of fun content that is both humorous and informative. It includes pictures and explanations/translations in English, which is perfect for beginners.
If you'd like to practice your skills with a talented and engaged Spanish teacher, then contact Spanish VIP directly through their website.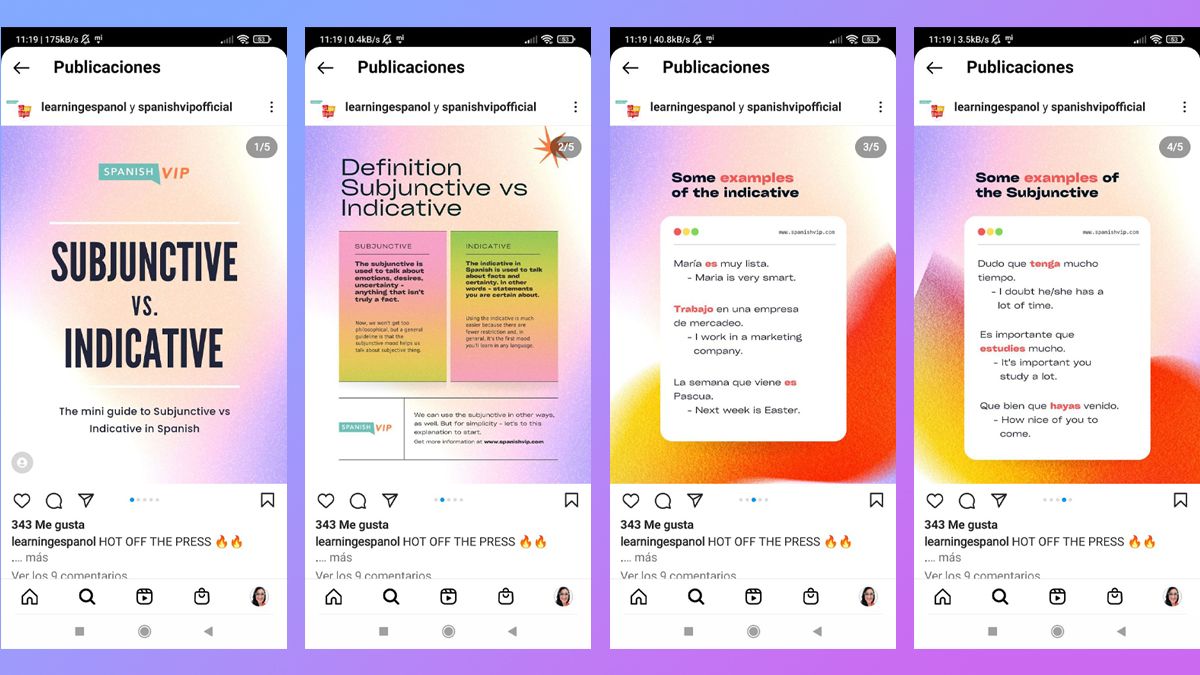 What you will learn with Learning Español
Through the use of humor, their posts offer content about common expressions and varied Spanish vocabulary, covering topics that range from numbers and days of the week to sexual items.
They'll often post an image of a single word in both Spanish and English, which is perfect for beginners.
Moreover, they also post content that helps you reflect on the way you learn languages.
3. Spanish Pod 101
This account on Instagram focuses on written content created in an innovative way, which you can access via Instagram itself or go ahead and download and print it. They have visual flashcards and printable PDFs.
Spanish Pod 101 does not post videos, which means the words and phrases you'll be exposed to through their posts will be in written/visual form.
Through their Linktree, you can access their website and create a free account, or access other features and services they have available, like a language learning app.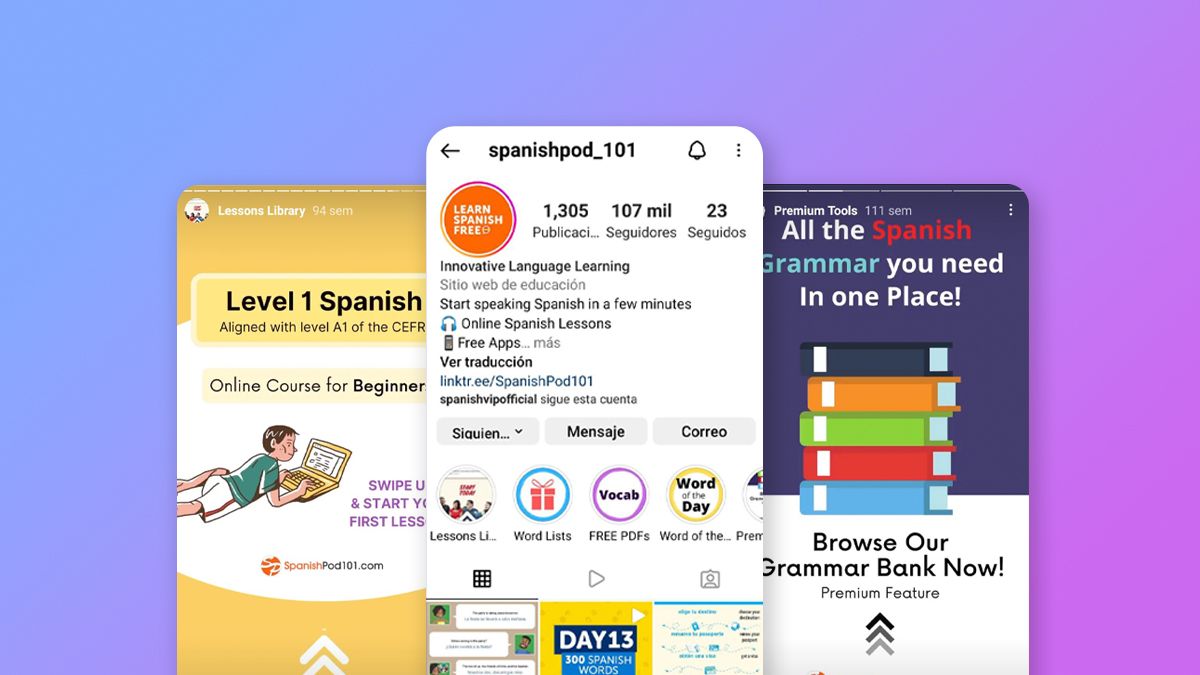 What you will learn with Spanish Pod 101
They offer infographics with sample phrases, words, and grammar concepts. You'll find vocabulary relating to topics such as food, drinks, nature, the days of the week, and much more.
Most of the accounts listed in this article operate out of Mexico. So, if you happen to be in the European corner of the world and are looking specifically for content that pertains to Madrid or other cities in Spain, this is a good option for you.
Check out: 7 Best Spanish Comedy Shows to Learn the Spanish Language
Intermediate Spanish learners
4. How to Spanish
This Instagram account belongs to Erika, a Mexican Spanish teacher who creates engaging and current content.
In her posts, you'll find reels and Tik Tok videos with an English translation available. She'll choose audio-only scenes from movies, TV series, interviews, or even songs and she'll act them out.
This is such an engaging and fun way to learn Spanish! In fact, if you're looking for an online Spanish teacher, you can even contact Erika directly.
What you will learn with How to Spanish
You'll learn vocabulary relating to common daily expressions.
You'll also learn mostly Mexican Spanish, which will actually help you with your pronunciation (compared with Spanish in Spain or Argentina, for example, the Mexican accent is quite neutral).
5. Spanish Toons
If you like cartoons, this page is ideal. The posts on the Spanish Toons account will undoubtedly add some enjoyment to the study process.
On this Instagram account, you'll get to rewatch your favorite cartoons while learning Spanish. Some posts are clips of entire scenes while others are just snippets of certain expressions.
What you will learn with Spanish Toons
Each post will have English and Spanish translation as well as audio in both languages.
A great way to activate your learning session is to let the clips play on repeat and practice saying the dialogues out loud.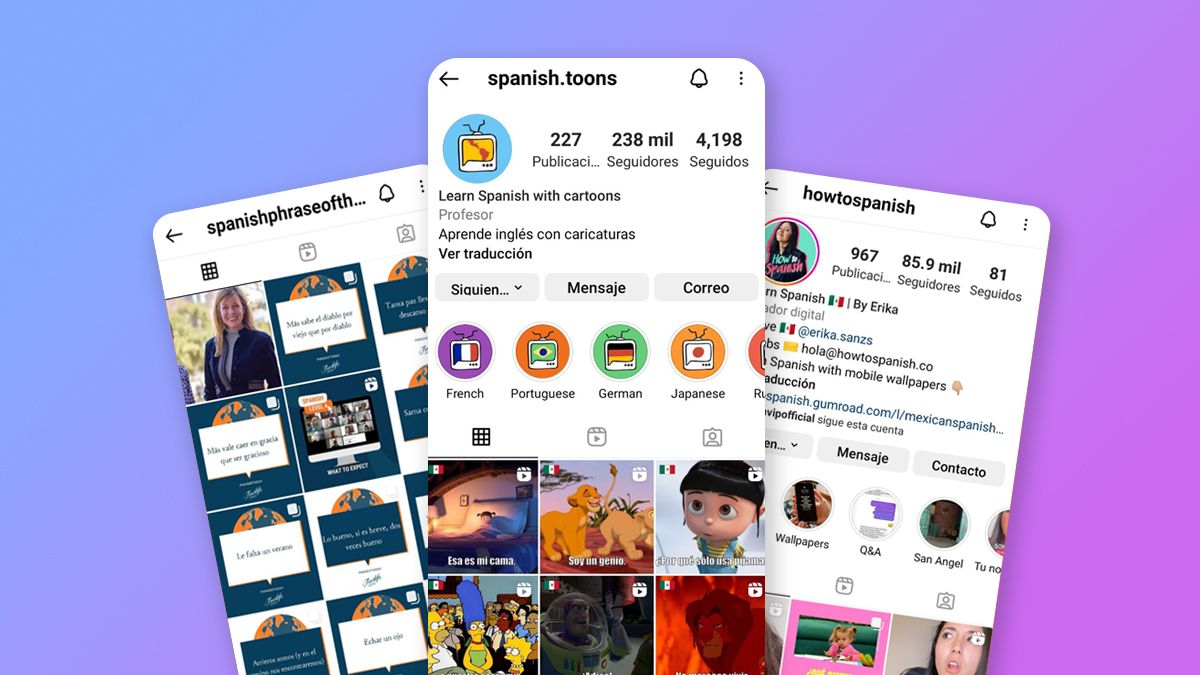 6. Spanish Phrase of The Day
This Spanish Instagram account is run by @freestylelanguages and is made up of phrases that will help you improve your Spanish by teaching you idioms.
This is a minimalistic account that is praised for its simple graphics.
What you will learn with Spanish Phrase of The Day
On this Spanish Instagram account, you will learn expressions and vocabulary that you wouldn't otherwise learn through traditional lessons or methods. Doing so will help you to speak like a native.
Advanced Spanish learners
7. Freeda ES
This Instagram account is exactly what you need if you read publications like The Cut in English.
The posts are written entirely in Spanish, with no English translation, so they're better suited to advanced learners.
Freeda ES focuses on female-oriented topics for feminist readers. The account does have Spanish subtitles, which is great to help you follow what is being said while also working on your reading skills.
What you will learn with Freeda ES
All things feminine are discussed here. From sex to long-distance relationships, this account will be incredibly educational.
If these are topics you're already interested in, why not upgrade your feed to some multilingual content?
8. Cultura Colectiva
This is a webpage to follow if you appreciate visual and eclectic contemporary themes and material.
Cultura Colectiva is a Mexico-based news and media website. In fact, they're one of the top 10 digital media outlets in Latin America.
There is no English translation, so it's appropriate for more advanced learners that are interested in native content. The Instagram account provides updates relating to the content produced, but you'll need to visit the website for in-depth reading.
What you will learn with Cultura Colectiva
The topics that are discussed in Cultura Colectiva are usually relevant to Latin America, both in terms of current affairs and in terms of history.
They also post motivational, artistic, and cultural content.
9. 72 Kilos
This account posts comic book strips and their content is 100% in Spanish.
This is perfect if you're into comic books. You can learn the Spanish language through drawings, while also being exposed to full sentences and complete dialogues.
What you will learn with 72 Kilos
You can expect daily life vocabulary and expressions that will help you become more comfortable expressing yourself in Spanish like a native.
The captions are also helpful to explore each theme further and work on your reading skills.
Bonus
Lingopie
We absolutely have to recommend our own Instagram account. While it's not exclusively dedicated to Spanish learning, there is always great content on this language. We provide grammar tips, memes, TV shows and Movie recommendations and much more!
Why Learn Spanish phrases with Instagram?
Learning with Instagram is a great way to absorb content passively, without even noticing that you're doing it.
Of course, you can always decide to use your experience actively by making notes or repeating a word or phrase out loud to yourself.
If you choose to focus on accounts that have video and audio content, learning Spanish on Instagram will be a great way to work on your listening skills, which in turn will gradually help your pronunciation skills.
For example, you might engage with someone learning English and make them your tandem partner. You might even make new friends to practice with.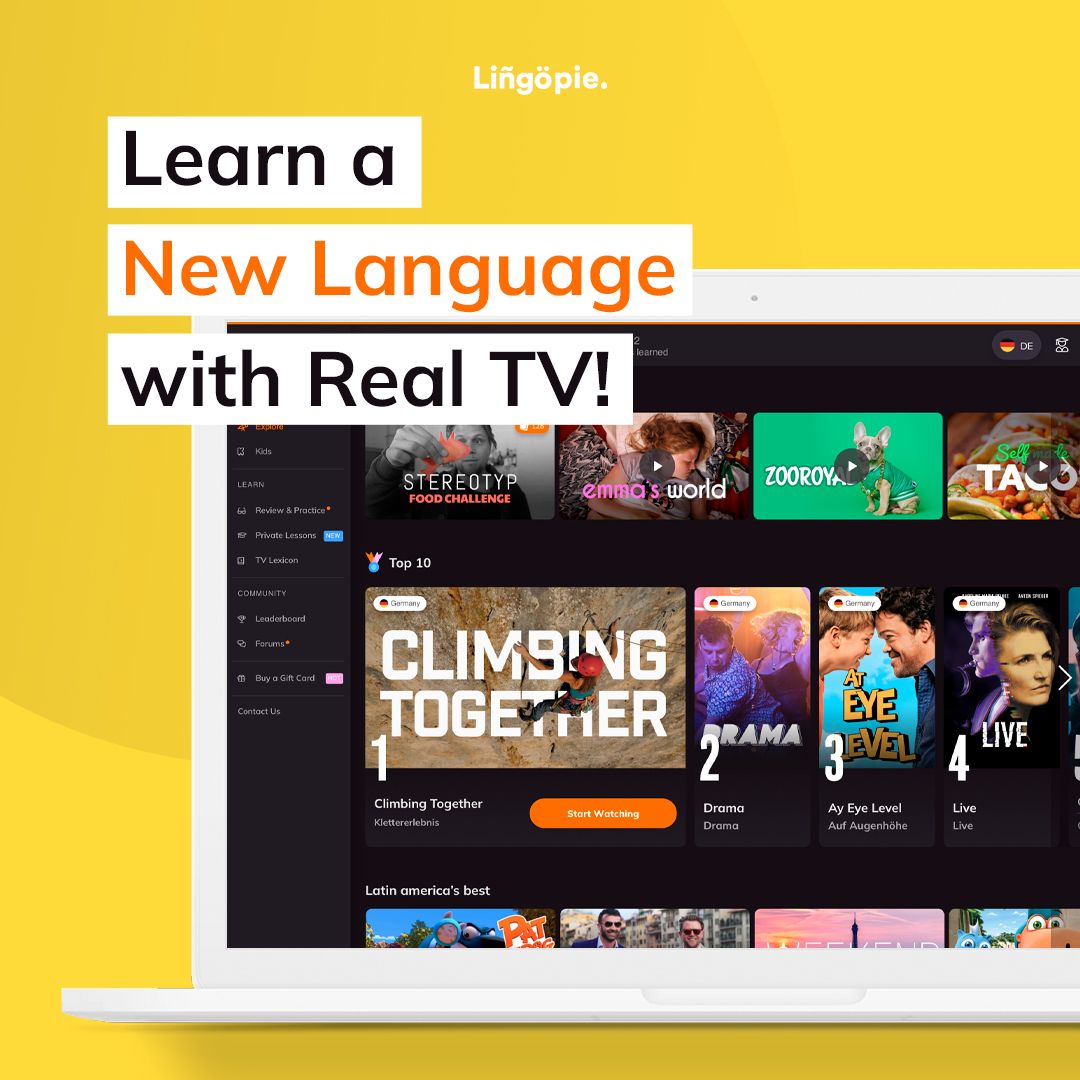 Summing up: The 9 Best Instagram Accounts for Learning Spanish
In this post, we've outlined the best Instagram accounts to follow to learn Spanish.
We've shown you that you can improve your Spanish with Instagram by following and engaging with several Spanish Instagram accounts, no matter your level.
Don't limit yourself to traditional methods; fill your Instagram feed with Spanish accounts and learn by practicing your listening comprehension as well as other linguistic skills, depending on the account you choose.
If you'd like to pick up Spanish, German, Korean, or other languages, why not sign up for a free trial with Lingopie?
If you want to learn more: 17 Best Shows To Learn Spanish On Netflix