Spanish is one of the most widely spoken languages in the world and lots of people are attracted to its romantic intonation.
Countless people have downloaded language learning apps and taken classes to start learning the Spanish language, but sometimes that is not enough to become truly fluent.
One of the best ways to start to understand a language like a native is to watch Spanish TV shows. We've already compiled a list of the best telenovelas to learn Spanish but now we'll focus on a different genre.
Just like in English, one of the best genres to watch in order to learn slang and regional vernacular of the Spanish language is comedy.
In this post, we take you through our list of the 7 best Spanish comedy series to learn the Spanish language. And you can do it all on Lingopie!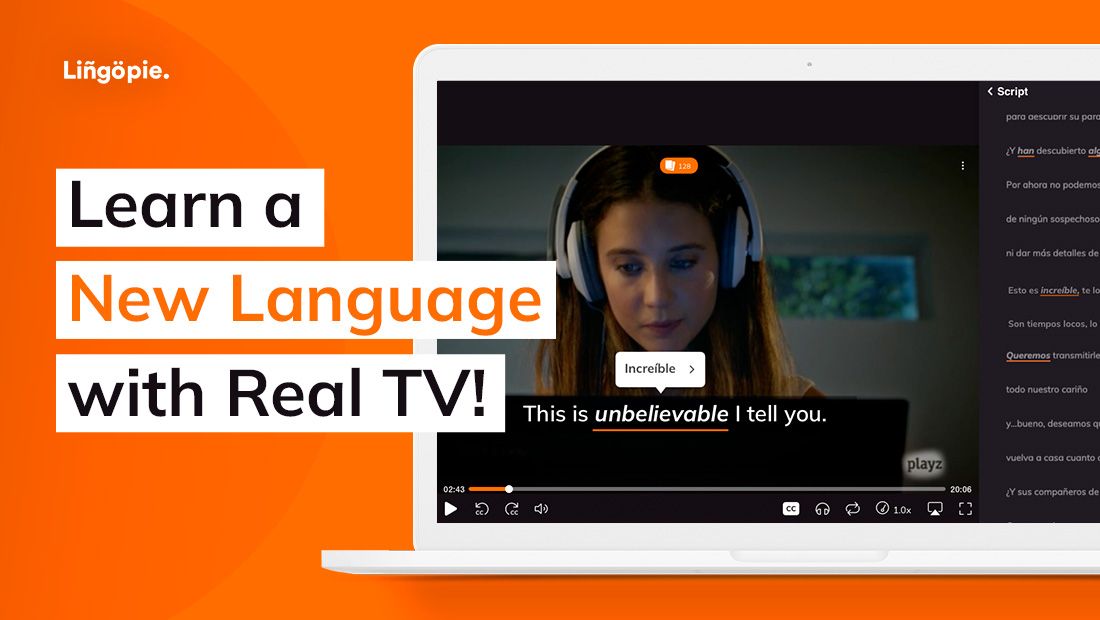 Comedy Shows from Spain
The Mysteries of Laura (Los Misterios de Laura)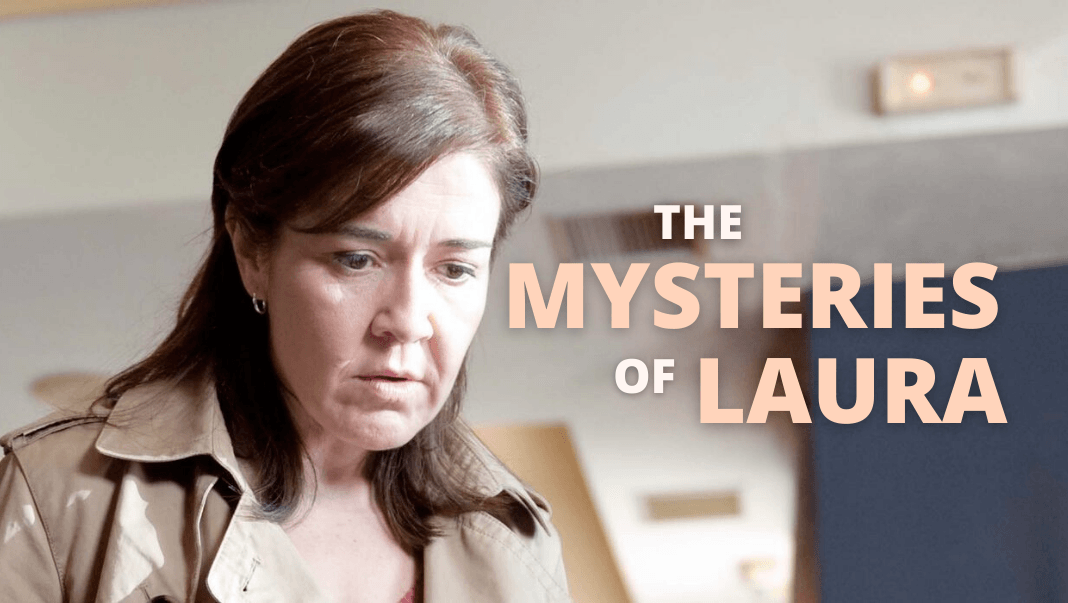 Los Misterios de Laura is a Spain-set drama-comedy television series about a renaissance woman living in the modern world.
Not only is she a single mom of twins, but she is also a full-time police detective. Her investigative techniques are a bit abnormal if not quirky, but she always cracks the case in the end.
This TV show has it all, with crime and mystery and a bit of dysfunctional family living. You'll be laughing at Laura's lovable personality and the way that she navigates everyday problems and the world around her.
If you are into true crime but also enjoy a good laugh, this comedy show is a great one to start with. In fact, this was one of the best sitcoms in Spain in the 2010s.
Also, American viewers may have noticed that there is an English version of the show with the same name. We recommend bouncing back and forth between the two to compare the differences between American jokes and Spanish ones.
You may also be able to notice the differences between Spanish politics and American politics and how they tackle this in each episode.
Theater x WiFi (Teatro x WiFi)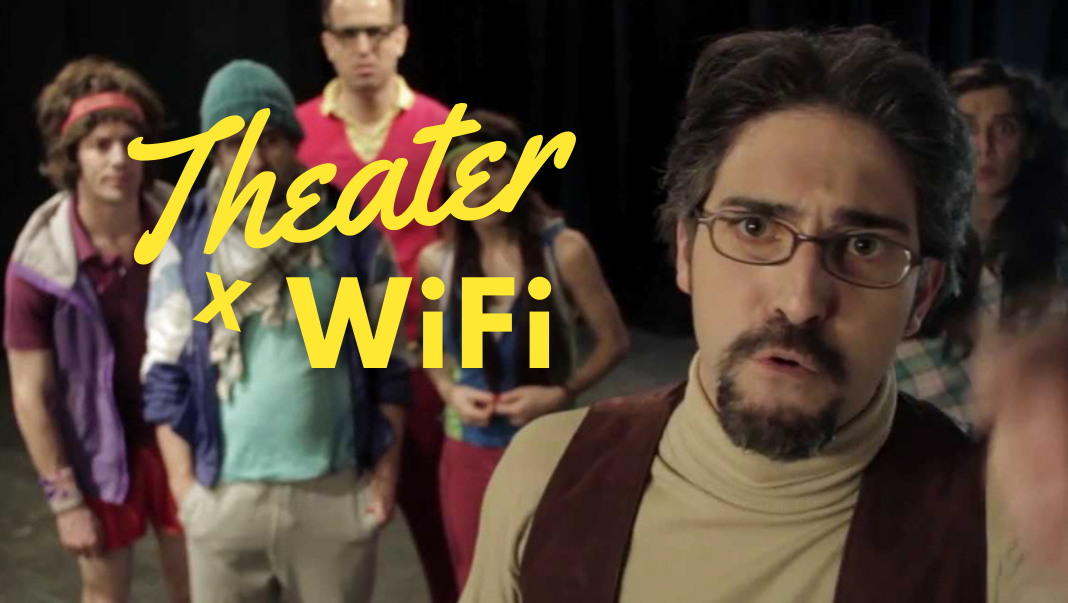 This one is for all of the theater lovers out there. This Spanish-Argentinian show serves the purpose of teaching you acting and theater techniques from the comfort of your own home!
As it is a comedy series, nothing that goes on in this show is very serious.
The host, Estanislao de la Barca, is quite the character and will remind you of the theater teacher you had in high school. He's full of energy and he has a handful of young people who serve as his acting troupe throughout the show.
This comedy series is very much an exercise in improvization. It's extremely silly and you will find yourself giggling the whole way through!
Teatro x Wifi is perfect for lower intermediate level learners because Estanislao speaks to the audience as if they are very young children. So, he is quite easy to understand.
With the help of Lingopie's dual-subtitle feature, you'll be learning his colloquialisms in no time.
Olmos and Robles (olmos y robles)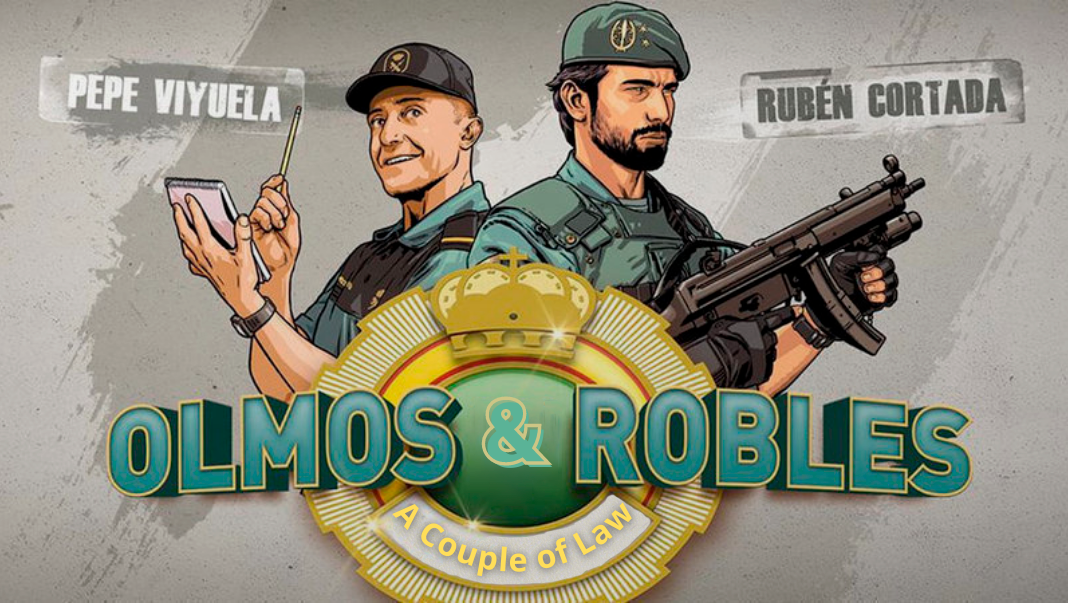 This action-packed comedy series is about an unlikely duo stuck together in the line of duty.
Like Los Misterios de Laura, this show contains a lot of police vocabulary and deals with several darker subjects. But, the comedy of the complete contrast between Olmos and Robles keeps the show pretty light.
They have a very good cop, bad cop relationship as Robles is a military veteran and very much a rule follower. By contrast, Olmos is a guy who has never left his small town and is a bit clueless about certain things.
The TV show is set in a fictional neighborhood in the region of La Rioja in Northern Spain. So, you will see a cast of characters who fulfill the stereotypical Spanish personality types of a small town in Spain.
Many scenes in the show entail the townspeople softening up Robles and teaching him how to live a normal, tranquil life since he's spent so much of his adult life in the Guardia Civil, (or Civil Guard).
If you want to improve your true crime Spanish, this is the right TV show for you. The vocabulary that is used in the show can be pretty niche.
So, this is a good show to watch if you are at an upper-intermediate level of Spanish and already have a good base of grammar and vocabulary.
Shows from Latin America
Another Round (Otra Vuelta)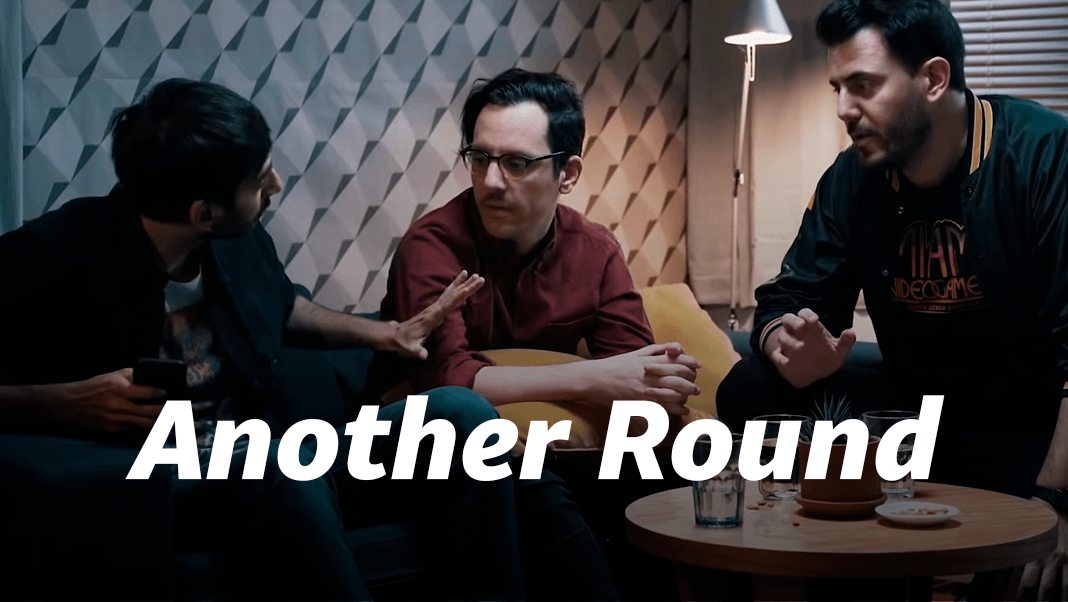 With this show, you will witness satire typical of Argentinian culture.
Each episode of this limited series is less than five minutes, so it is a perfect thing to watch if you need a quick Spanish lesson. Also, given that the episodes are so short, you can re-watch them repeatedly in order to pick up key phrases and jokes that are popular in Latin America.
The first episode is a conversation between a doctor and her patient. The second is a dilemma between three friends, and the third centers around a game show and a guest that is somewhat of an oversharer.
Each episode will make you chuckle and make you wish there were more than just three!
Insanely (Insanamente)
Now, this is a show that will give you the Spanish vocabulary that you didn't know you needed.
Yoss, the host, is a Mexican Youtuber who covers every topic under the sun that women have to deal with in real life. She pokes fun at the little things that happen to her that make her go insane, on a daily basis.
This series will teach you frequently used slang and swear words that are common to Mexico specifically. Some of these words include flaca (skinny), which is usually what men call their girlfriends or someone they like, me duele un chingo (it hurts a lot), and pinche (check out the subtitles to find the translation!)
Each bite-sized episode takes you on a new journey into the inner workings of Yoss's brain and what goes through it on a daily basis.
You will see interactions between two women, men and women, Yoss and her therapist, and many more. She also touches on current events and how they make her feel.
A lot of the Spanish terms related to womanhood and being an adult in the modern world are used throughout this comedy series and you are sure to pick up Yoss's idiosyncracies as well.
On the Table (Sobre la mesa)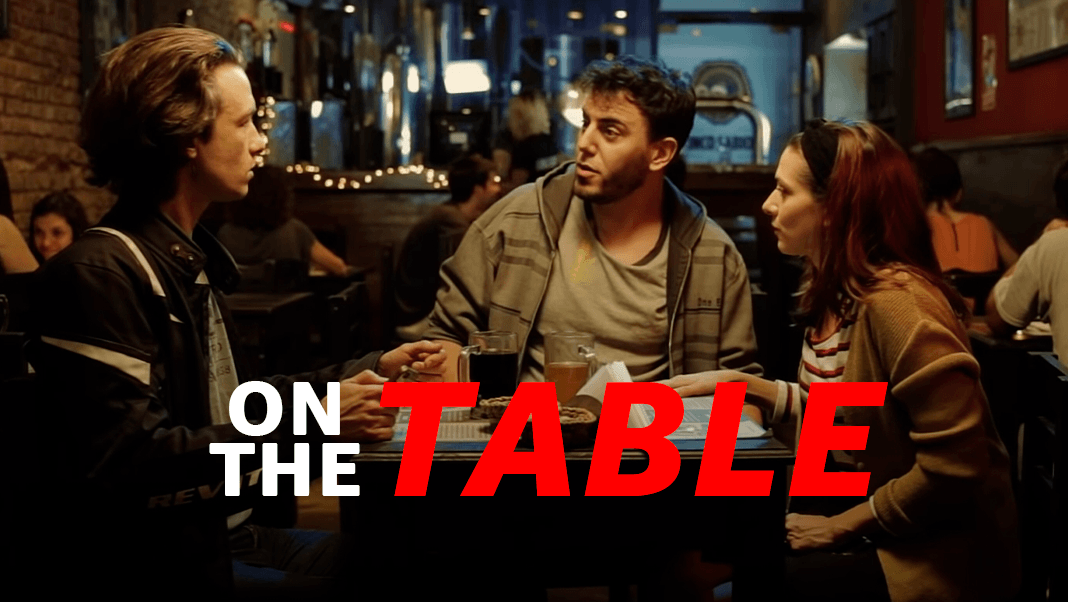 This Argentinian short film is unique on this list as it's not a Spanish sitcom or a Spanish comedy television series.
The premise is that a man, Juan, finds out that his wife, Belen, has taken a lover. Instead of confronting her about it or ignoring it altogether, he chooses to track them down when they plan to have a date and join them.
It is a very tense movie to watch, but it also has good comedy and really makes you think deeply about relationships.
How to Use these Spanish TV Shows as a Learning Tool
A good way to dive into these shows is to watch them in their original form but with English subtitles. This way, when you hear a new phrase, you can write it down in Spanish with the English translation.
Once you get a grasp of some of the language, try switching to Spanish subtitles so that you are fully immersed in the language both visually and audibly.
Remember, subtitles are always a useful tool when learning Spanish!
Another technique is to try to pick a favorite scene in any of these TV shows and try to memorize all of the lines. This will help you pick up the Spanish language more quickly.
To see more language learning tips, check out our guide on how to learn Spanish with TV.
If you are a Spanish speaker or a Spanish learner, you have likely heard of the hugely popular Netflix show called Money Heist, or in Spanish, La Casa de Papel.
This show has launched a whole new generation of viewers of Spanish TV. If you have watched this show and enjoyed it, you will have a great time watching some of the more action-oriented Spanish comedy series on this list like Los Misterios de Laura and Olmos y Robles.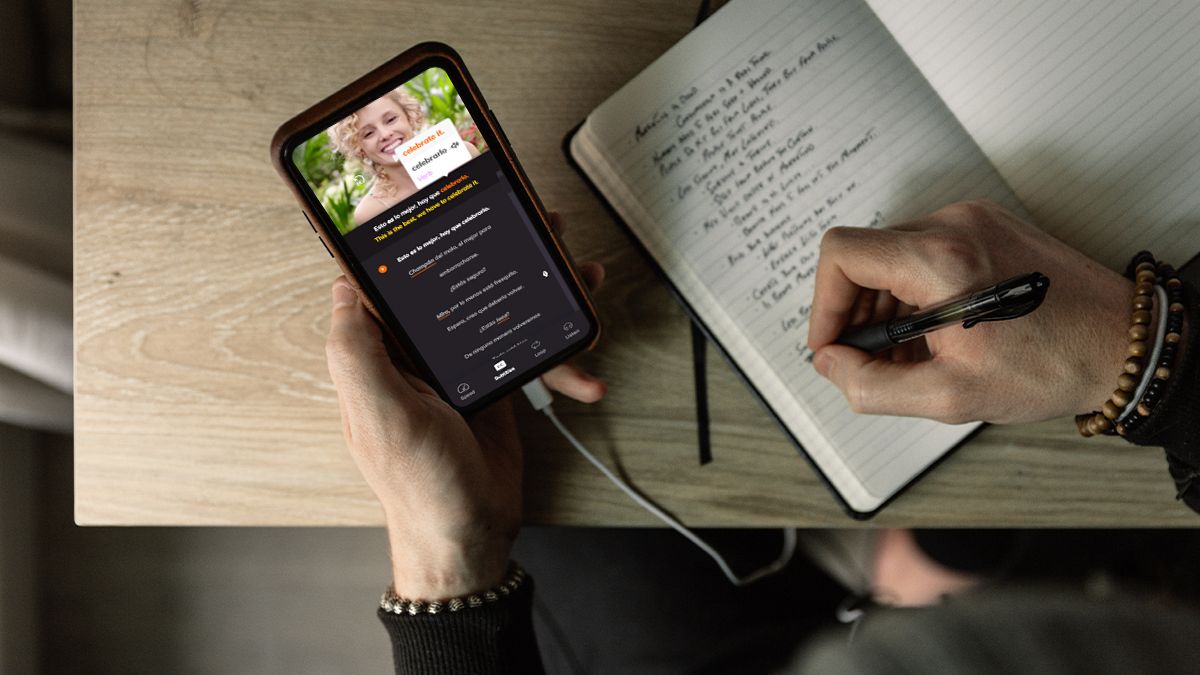 Bonus Shows to Help you Learn Spanish
Los serrano (a superb family drama sitcom)
In addition to the 7 shows above, another great show to watch is Los Serrano. This Spanish sitcom aired from 2003-2008 and centers around the Serrano family, who live in a housing bubble outside of Madrid. It serves as a kind of Spanish Brady Bunch as it follows the life of a blended family.
Diego Serrano, a widowed father of three sons, marries Lucia Capdevilla, a mother of two daughters. They are a relatively plush family that owns a tavern and lives in the fictional neighborhood of Santa Justa.
This Spanish sitcom tends to feel like a soap opera, as members of the family navigate their everyday lives and situations.
In fact, many Spanish people say that it is one of the best sitcoms to come out of Spain.
If you want to watch this show to help you learn Spanish, you can easily find all of the episodes on Amazon Prime Video.
Club de Cuervos
Club de Cuervos is a Mexican sitcom/drama that started in 2015 and is still running on Netflix.
It is about two siblings, a brother, and a sister, who inherit their father's football club. Lots of family drama ensues and the sibling rivalry will feel familiar to any viewer who has ever had to share anything with their siblings.
Club de Cuervos in English means Club of Crows, the fictional football club that the show is based around.
If you are a sports fan and would like to learn more Spanish vocabulary that relates to soccer and the business around it, this is a great show to watch.
Madre Solo hay dos
Madre Solo Hay Dos (Daughter from another Mother), is a Spanish comedy series available on Netflix.
It centers around two women who discover that their babies were switched at birth. The ensuing entanglement of lives and different personality types makes for lighthearted Spanish television.
Watch this show if you want to learn some vocabulary surrounding motherhood.
El Chavo del Ocho
El Chavo del Ocho is one of the classic TV shows to come out of Mexico.
It is an older show from the 70s and 80s that centers around a young boy who lives in an apartment building in a rough neighborhood.
The apartment building is occupied by all kinds of colorful characters and all of the children, including el Chavo, are played by adult actors, which adds to the comedy of this TV series.
You can find all episodes on Prime Video.
The Benefits of Learning Spanish through Spanish Comedy Series
Think back to all of the comedy movies and TV shows you have watched in your life. How many lines can you quote by heart or belt out with your friends? There is something about comedy that just sticks in the brain.
Hilarious comedy is so entertaining to us that we get the urge to watch it over and over again without getting bored. If we can do this in English, imagine how beneficial watching a few comedies on Spanish television would be!
In your general everyday life, you probably get home from work and pop on the television to relax and unwind at the end of the day.
If you are someone that is trying to improve your Spanish skills, the list of Spanish comedy TV shows and movies below could be a great way to learn Spanish phrases while being entertained by comedy.
You will not only start to pick up the dialects of the people in the show, but these comedies also serve to give you some cultural education.
A few of the shows are from Spain, but others are from Argentina and Mexico as well. So, you will experience a wide range of accents, dialects, and region-specific jokes.
The shows also tackle the general everyday life of the people from the country where the show is based. So, you will learn about Argentinian, Mexican, and Spanish society while learning Spanish.
Summing up: Using Spanish Comedy Shows to Learn the Spanish Language
From police procedural comedies to theater tutorials and Mexican sitcoms, this list of Spanish comedy TV shows and movies will keep you entertained for hours.
With sore cheeks from laughing and brains full of Spanish vocabulary and cultural understanding, you will be prepared to travel the world with your diverse knowledge of Spanish from different countries.
And if you feel like diversifying your language learning resources, we suggest this post in which we list the best 15 songs to learn Spanish!
Why not sign up for a free trial on Lingopie and access a wide range of Spanish comedy series from all over the Spanish-speaking world? See you on the platform!